New mascot takes Pio spirit to another level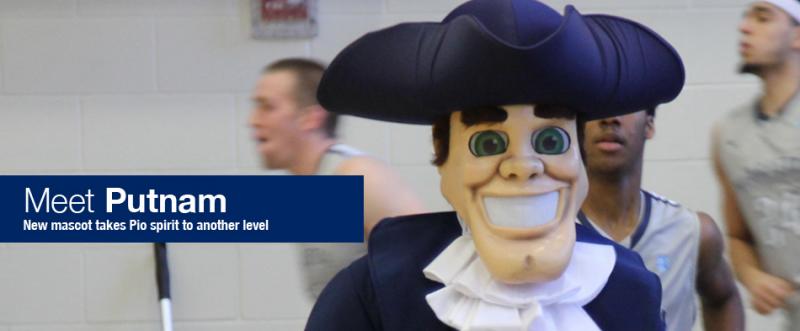 A minute before the Marietta men's basketball team emerged from their tunnel to begin warming up for the game against John Carroll University, a low roar could be heard coming from the players.
The student section had been waiting all week to see the newest member of the Pio Nation. They came out in full force to catch the first glimpse of him — as well as watch the men take on the Blue Streaks — and amplified the chorus ringing throughout Ban Johnson Arena.
Energy coursed through the BanJo as students and community members reached for high-fives from Putnam, who dressed like a true pioneer with his navy blue jacket, ruffled blouse, proper gloves and black boots. By tip-off, presence of Pio Pride added a sixth man on the court. He was exactly what the nailbiter of a game needed, as the Pios finally edged out the Blue Streaks.
The unveiling of the new mascot wrapped up Spirit Week at Marietta College.
Rivaling the giant grin on Putnam's face is that of the former mascot, Taylor Myers '16, who was the driving force behind obtaining a new Pioneer representative. He attended a mascot conference earlier this year after learning about it through President Joseph W. Bruno.
"Out of the 17 mascots there, I was the only one in basically a simple-looking costume," Myers says. "I was very proud to represent Marietta College, but it was clear we were behind the times when it came to having a true mascot."
Student Senate took the lead on making a new mascot a reality and worked with campus partners to decide how Putnam will be used for Marietta events, ranging from the Athletics Department to the Office of Admission.
To draw early excitement for the new addition, Student Senate asked members of the Marietta College community to weigh in on the name of the new mascot. The top vote was for "Putnam." His birthday will be officially observed on Feb. 22.
Myers says three students will be selected for the role of Putnam at various events, and has had many people offer their services.
"It's a great honor to be selected as your school's mascot and I love being part of this new tradition," he says.
Created with flickr slideshow.