New program means waking early to provide community service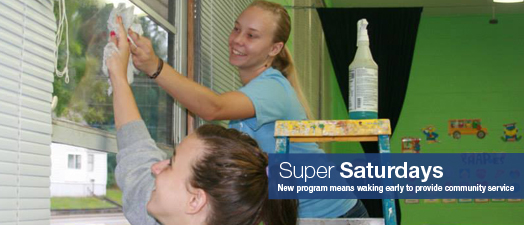 While most of Marietta College slept in last Saturday, even early-morning hours and pouring rain did not stop 18 dedicated students from participating in the College's first-ever Super Saturday of Service.
"I decided to serve because I realized I hadn't done as much as I wanted to do before I graduate," says Simon Sanders '15 (Cleveland, Ohio). "I didn't want to be here four years and not do anything."
Each Super Saturday of Service is an opportunity for any student on campus to volunteer for a local nonprofit. Breakfast and lunch are provided, and the first 25 students to register receive free T-shirts. This project was pioneered by the Office of Civic Engagement as a response to students desiring more campus-wide service opportunities.
"Students requested to engage in service projects where they could meet community members, develop friendships and contribute to making a difference in our community," says Civic Engagement Coordinator Cristie Thomas. "The Office of Civic Engagement staff was thrilled to learn about this."
Although 18 students was less than Thomas hoped for the first service day, she remains optimistic about the program.
"It's not about the numbers; it's about the impact," she says.
On Saturday, Aug. 31, students volunteered at the Marietta Family YMCA, where they served diligently by cleaning windows, stripping wood floors, sanitizing gym equipment, and scrubbing the lines of the pool floor. One student even served with her foot in a cast.
"People walked by saying, 'good job' and 'thank you'," Sanders says. "It's satisfying to know that they appreciate my efforts."
Last Saturday was Sanders' first time volunteering in the Marietta community. He plans to do all of the Super Saturdays of Service this semester.
"After today, I'd rather do this than sleep in," he says.
YMCA CEO Suzy Zumwalde '89 was very grateful for the assistance and explained just how important it was to the organization.
"We are one of the largest nonprofit organizations in Marietta and have hundreds of people coming through our doors every day," Zumwalde says. "A clean facility is so important! Having the students help with some of our annual cleaning projects allowed us to complete tasks that otherwise we would not have been able to complete."
Despite the positive feedback from community members, the OCE staff believes that their service is not complete unless students take the opportunity to think critically about the work they performed.
"If you don't do service with reflection, you're doing more harm than good," Thomas told the group of volunteers.
As students participated in a period of reflection following their work, Thomas encouraged the students to extend their mindsets of service into their daily lives and "live justice."
"It's not just about what you're doing in the moment — it's so much larger than ourselves," Thomas says.  
Sept. 26, Oct. 26 and Nov. 23 are the remaining Super Saturdays of Service for the fall semester. Students interested in participating may register at 8:30 a.m. in the Great Room of Andrews Hall on those dates.