New program provides needed resource for LGBT community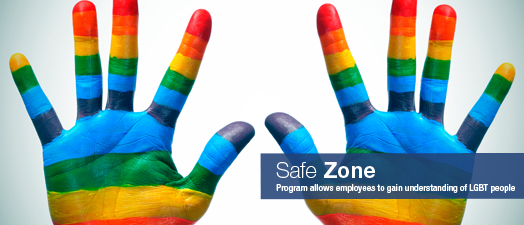 Just as you enter Coach Stacia Shrider's office in Dyson Baudo Recreation Center, you'll notice a "Safe Zone" decal on her window.
Though it has a very special meaning to her now, if you had asked Shrider a year ago what a "Safe Zone" meant she would have been hard pressed to come up with a reasonable answer.
"It was eye-opening to see how appreciative students were across campus that an actual Safe Zone training was formed," says Shrider, who went through the College's training in the spring of 2014. "I chose to go through the Safe Zone training so I could provide a safe place for students to go to if they needed someone to talk or listen to."
Shrider, who is beginning her third season as Marietta College's women's basketball coach, was one of about 20 College employees — both faculty and staff — that went through the training and now provide "Safe Zones" across campus for students who identify as lesbian, gay, bisexual, transgender, queer, questioning, asexual, fluid, pansexual, as well as allies to all identities.
She says going through the training enabled her to learn more about the LGBT community and different issues those students on campus face.
"It was a great learning opportunity," she says. "It's reassuring for students to know that there are faculty, staff, and administrators across campus that appreciate them for who they are and are willing to listen."
That's exactly what Caitlin Jones and Andrea Euser-Miller were hoping to accomplish when they developed the program with help from the Office of Diversity & Inclusion.
Jones got the program off the ground by volunteering to the VP of Diversity and Inclusion (Dr. Richard Danford) to head efforts for the LGBT community during the Spring 2013 semester. A campus task force was formed to look at the current climate for LGBT members of the campus community with that information guiding the formation of the Safe Zone training to aid in its relevance to current employees. Jones says The Alliance, the LGBTQA student organization, was also involved in the training as students participated in a panel to provide real-life anecdotes about their experiences.
"It was important to The Alliance to see that something campus-wide was happening to enhance the experience of LGBT students," says Jones, Coordinator at the Career Center. "Knowing that faculty and staff support them really makes our LGBTQA population feel more comfortable on campus."
Euser-Miller says she was excited to work with the committee because of its dedication and quick progression in meeting a goal of having training in place.
"We actually did something concrete and had the Safe Zone training and it has a place on campus," she says. "We met consistently and followed through with the plan."
As a member of the campus community for almost 15 years, Euser-Miller has seen the progression of efforts surrounding the LGBT community and is proud of the recent growth in and strength of support across campus.
Lacey Caparanis '15 (Warren, Ohio) is involved with The Alliance and moving LGBT efforts forward on campus. She says the addition of the Safe Zone program has been a positive change at the College.
"It is wonderful to open other people's eyes about the issues that hit many of our students close to home," says the Psychology major. "I think that it is very important to open up faculty and staff members' eyes to the potential harms that LGBT students face both on and off campus."
She also says it was good for faculty and staff to learn about some of the dynamics between different groups in the LGBTQA and ally communities.
"Since often all orientations get lumped together, when in fact they face diverse issues, it is important to discuss the various identities represented by the LGBT acronym," Caparanis says. "This revelation is extremely important for those of previous generations to realize when dealing with my generation; we are trained by social media and the internet as a whole to become more culturally and socially aware, and it is important for us to open the eyes of other generations who may not otherwise be exposed to this type of social education."
Caparanis is even more pleased by the subtle changes that have taken place since she arrived four years ago. She has noticed that student organizations have collaborated around issues of diversity, and more people on campus seem open to working together to enhance support for all groups.
"I know that it is difficult to foster change in such a traditional community, but I think our school is starting to recognize and take the steps we need to take to move forward with the times," she says. "I think that the students involved in the Safe Zone training took comfort in the fact that faculty and staff are making such strides to move toward equal opportunities for all students, regardless of sexual or gender identification, race, etc."
Jones says trainings will continue each semester to include more faculty and staff in this visible support effort.