New students learn about Marietta traditions at Matriculation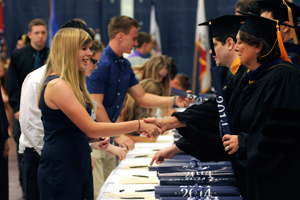 If the Class of 2018 walked away from the 2014 Matriculation ceremony with only one talking point it would have to be Marietta College cherishes tradition.
"(Matriculation) is one of the many great traditions we have at the College," said President Joseph Bruno, as he greeted nearly 400 new students in the Dyson Baudo Recreation Center. "Matriculation endures — not just because we all get to dress up for the occasion — because of the great significance we place on welcoming you into the College's learning community."
Student Body President Taylor Myers '15 (Beallsville, Ohio) didn't let up on the tradition theme.
"Tradition drives Marietta College," Myers said. "It's what makes your four years here Piotastic and fun. Here you know the Sunday night before finals week our faculty and staff will happily make us breakfast because Dr. (Dan) Monek and Dr. (Janet) Bland's pancakes make everything a little bit better."
Not only were the new students hearing this message, but so were hundreds more family members who stuck around after helping their student move into their residence hall earlier in the day.
Each student who matriculated Thursday also joins The Long Blue Line by signing the historic and ceremonial books during the event, which includes the College's faculty dressed in academic regalia.
"I hope you are as excited about this new academic year as I am, and are ready to delve into the opportunities, the challenges and the responsibilities it will surely bring," President Bruno said.
One new student, Kindra Hecker (Parkersburg, W.Va.) decided to transfer to Marietta College after she changed her major to Advertising & Public Relations.
"Marietta had my major and, believe it or not, it's larger than the school I just transferred from," she said. "I'm excited about being here and being on the rowing team."
Though she is only moving across the river from her family's home in Parkersburg, Hecker brought something to remind of home.
"I brought my stuffed monkey, Mr. Bananas," she said. "He's been with me for a long time. He's been to Afghanistan when my dad was stationed there and he's been to surgery with me, so Mr. Bananas has been with us through a lot of things."
The audience also heard from Jennifer Offenberger '86 and Vice President for Student Life Robert Pastoor. Offenberger welcomed the Class of 2018 into The Long Blue Line, while Pastoor provided them with advice on how to be successful over the next four years.
There was also a nice reminder from Myers about the family the new students were joining.
"Marietta College Pioneers look nice, do well, we like to win and we're here for a liberal arts education," Myers said. "That means you're going to learn in the classroom and outside of the classroom. It means you're going to learn in your residence hall or on Front Street."
Following the ceremony, everyone was invited to stay inside the DBRC for hot dogs, hamburgers and other picnic items.
On Monday, Aug. 25, all classes begin for the fall semester. The College will conduct its annual fall break from Oct. 4-7 and will celebrate Homecoming from Oct. 10-12. The fall final exams are Dec. 8-12.
The spring semester begins Jan. 12 and many students will begin their spring break countdown, which runs March 7-15. The 2014-15 academic year will come to a close when the 178th Commencement ceremony is conducted on May 3.
RELATED LINKS
Campus and Community Welcome Class of 2018 to Marietta
Move-In Day photo gallery
President Bruno's Matriculation charge
Provost Sproles' Matriculation charge
Student Senate President Taylor Myers' welcome
Vice President for Student Life Robert Pastoor's welcome
MCAA Board Member Jennifer Offenberger's welcome
Matriculation ceremony photo gallery