PA Jeff Bailes finally gets his first day at work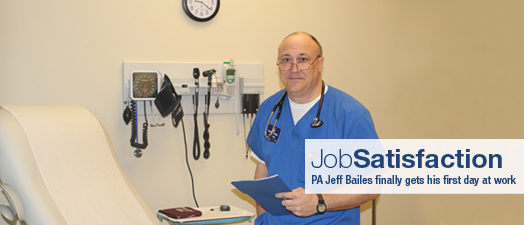 Jeff Bailes expected to start his new job as a physician assistant at Marietta College back in August.
But when a quirk in Ohio law prohibited him from getting certified to practice in the state, he was left in limbo. More than seven months later, Bailes was finally on the job Friday (March 22).
"It's like Christmas Day," he says. "It was difficult waiting and my patience was wearing thin. No matter how much you don't question your skills or ability, when something takes this long, you do start to doubt yourself and your credentials."
Dressed in his blue scrubs, Bailes saw his first Marietta College patient around 9 a.m.
"It's so rewarding and so much fun. The piece I enjoy the most is the patient education," Bailes says. "I've always had the freedom to spend a little more time with education and not just say 'Take these and you'll feel better.' Instead, I take the time to tell them why they need to take them or do what I'm suggesting."
Dr. Eric Limegrover, Director of the Dr. J. Michael Harding Center for Health and Wellness at Marietta College, never wavered on his support for Bailes and he believes the extended wait was worth it.
"Jeff brings solid critical thinking, problem-solving, empathy, and excellent interpersonal communication skills from his career in the military," Limegrover says. "Jeff's ability to work well independently as well as with a team of medical providers will pay instant dividends. His presence will allow our medical staff to spend more time with the students to assess and explain the treatment of their medical issues."
As a member of the U.S. Army, Bailes served as a PA during a tour in Bosnia and two tours in Iraq. He retired from the military in 2007 and then spent three years as a government service PA at the soldier readiness processing center and occupational health at Fort Polk in Leesville, La.
At this point he figured his PA career was over and he would simply live with his wife, Kathy, in Ravenswood, W.Va. When he saw the opening at Marietta, he thought it would be a good fit.
"Yes there are differences between being in the military and being on a college campus," Bailes says. "But I look at the similarities, and there are plenty. For example, the College has about 1,500 students. A typical battalion has about 1,200 to 1,500, and you are working with young, healthy people."
Limegrover says when the center opened, no one, including the state of Ohio medical board, anticipated any licensure issues for Bailes.
"There was never any question about Jeff's ability to provide high-quality medical care, the issue centered around his training," Limegrover says. "Jeff received extensive training in the military but his training did not qualify him for licensure in Ohio."
In September, the medical board informed Marietta College that it would petition the state of Ohio to change the statute governing medical licensure to include military training. Both the Ohio Senate and House of Representatives approved Ohio House Bill 284 and Gov. John Kasich signed it into law on Jan. 15.
Now that HB284 is law, physician assistants can perform additional services, including issuing do-not-resuscitate orders; determining and pronouncing death in certain circumstances; and prescribing, ordering or making referrals for physical and occupational therapy.
Where it helped Bailes was it allows individuals with a degree from an accredited program and at least three years of active-duty experience as a physician assistant in the military to qualify for a PA certificate in Ohio.
Ohio Rep. Andy Thompson (R-Marietta) consulted with Bailes on the bill and was pleased when his colleagues at the state approved it.
"I was pleased to help Ohio change its laws to enable capable, qualified physician assistants like Jeff Bailes to be able to practice in Ohio," Thompson says Ohio Rep. "Jeff's service to his country matters, as do the skills he learned while serving. Jeff is also a friend who was part of my graduating class at Marietta High School in 1981. I couldn't be any happier or more proud of Jeff and my colleagues in the Ohio Legislature."
Bailes' first day on the job was an exciting one for him, but also for his colleagues.
"It is a welcome sight to our medical staff. Due to his absence, Suzette Hungerford, staff nurse, and Anita Hernandez, staff physician, have been working overtime to provide 40-plus hours of medical care a week," Limegrover says. "Their diligence and compassion have kept the effects of Jeff's absence from trickling down to the students at Marietta College."
Bailes is appreciative of their support as well as the College's, which never strayed from its backing of his position at the center.
"I would not have blamed the College for going with someone else and not waiting for this to be resolved," he says. "I'm glad they didn't and I'm in awe of the support from the Board of Trustees on down."