PAC organizes impressive list of fall campus events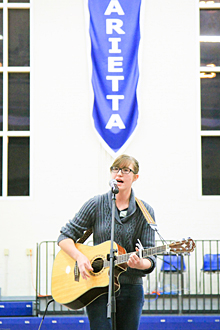 The variety and quality of programming being brought to Marietta College's campus has seen a significant improvement within just the past year. A lot of those positive changes are a direct result of the work of the students who comprise the Pioneer Activities Council (PAC).
PAC is Marietta's student-run organization that serves as the primary programming unit for the campus.
PAC plans and provides many campus events including concerts, comedians, group trips, movies and more. It also plans all major campus traditions including Family Weekend, Homecoming, and Brunos' Choice Awards.
Students all throughout campus can look forward to old favorites and exciting and new events this semester.
Trivia Tuesdays have already gotten underway and monthly Bingo, where past prizes have included a GoPro, an Android tablet, gift cards and movie and relaxation baskets, will start up on Wednesday, Sept. 16.
Two great comedians will bring the laughs to Izzy's this semester. Chloe Hillard will perform on Friday, Sept. 4 and Andrew Fisher will grace the stage on Friday, Nov. 6.
A relatively new tradition, PAC's once a semester Music Fest, continues this fall with three great emerging acts, YONAS, Teammate and Noah Guthrie, taking the Kremer Amphitheatre by storm on Saturday, Sept. 26. 
A campus favorite, movies in the Anderson Hancock Planetarium, will continue with showings of some of this year's hottest releases including Trainwreck and Straight Outta Compton before they're available anywhere else. Before the planetarium showings get started, PAC will team up with Student Government Association (SGA) to host Movies on the Lawn: a double feature showing of Pitch Perfect and Pitch Perfect 2 on Harrison Lawn on Friday, Sept. 11.
After the overwhelming popularity of Pio Dome last spring, PAC is excited to have two tournaments that are just as active and outrageous. Blitz Ball will be going on for six hours on Thursday, Sept. 10 while a Capture the Flag tournament will take place in November.
Other great events planned for the semester include: Salsa Magic Dance Class, Ohio Renaissance Festival Trip, Getting Better Grades with Dream Interpreter Rory Colgan, Freak Out Circus and Cell Phone Wars Gameshow.
PAC meets at 6 p.m. every Monday in the Emeritus Chamber (second floor of Andrews Hall).
All students are invited to attend PAC meetings and become a general body member, share ideas on how PAC can improve and what new programs should be brought to campus, and contribute to making upcoming events the best they can be.
Committee position applications will open to the student body at the end of the semester. 
To keep up-to-date with PAC and to potentially win some free giveaways, students can follow it on:
Facebook: Marietta College Pioneer Activities Council
Twitter: @MariettaPAC
Instagram: @Pio_PAC
Snapchat: @MariettaPAC
For more information about PAC, contact: Erin Riordan-Dye, PAC Advisor (evr001@marietta.edu, 740-376-4527).