PAC wins six awards for programming, marketing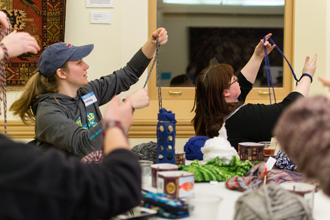 Seeing several big schools take home multiple awards at the annual National Association for Campus Activities (NACA) Mid-America Conference last year, the Pioneer Activities Council (PAC) wanted to try and give them a run for their money in 2015.
The campus programming board did just that. With more than 120 colleges and universities in attendance at this past fall's conference in Grand Rapids, Michigan, PAC took home six awards. Their awards spanned both the programs and marketing categories.
Programs 
* Educational Program Award: "Knit-Wits: Knitting Workshop" (Spring 2015) 
* Outstanding Campus Collaboration Award: "Welcome Back Bash!" with SGA (Fall 2015) 
* Program of the Year Award: "PAC Music Fest" 

Marketing 
* Best Poster/Flyer: "Knit-Wits: Knitting Workshop"
* Best Printed Advertising: "Pio Spirit Week Postcard" 
* Best Promotional Giveaway: "2015 Event Calendar Magnet"
"When we applied for the awards, I don't think any of us knew what to expect," PAC advisor Erin Riordan-Dye said. "Every time they called out 'Marietta College' for one of our awards, we all screamed. Then the awards just kept coming. I am bursting with pride."
Winning so many awards has been a great indicator of the excellent growth and development of PAC within the last year as it continues to bring fantastic programming to campus.
"I am so proud of the growth PAC has experienced in the last two years," PAC Executive Director Nikki Hannaway '16 said. "We have really tried to change our image and quality of events on campus and these awards are a small symbol of that change."
Riordan-Dye believes all that PAC has accomplished stems directly from the students who comprise it.
"These awards not only represent PAC's growth and excellence, but every one of our member's pride for their institution," she said. "Each PAC member is truly invested in the Marietta College experience and wants to enhance that experience with quality extra- and co-curricular activities. Receiving this amount of recognition from the top national campus activities conference is tangible proof of PAC's dedication to this institution and our students."
Within her role, Hannaway has a unique perspective, getting to second Riordan-Dye's sentiments on the impact of PAC's members.
"PAC's biggest strengths would be its board members and their dedication," she said. "It's easy to get burnt out after planning and promoting so many events, but our board has stayed strong. I think it helped that the bond that we formed last year was able to reach a deeper level this year."
Working to improve their own composition has been very beneficial to PAC's continued improvements in regards to scheduling and creating great programming.
"The addition of more male students to the board and the creation of the tournaments committee has really helped us focus on more gender neutral programming and interactive activities," Hannaway said.
While students on campus get to see and experience the final product, members of PAC and Riordan-Dye work extensively in preparation to make sure they bring the best and most sought-after programming they can.
"This year, PAC has really excelled with pushing the boundaries of our creativity," Riordan-Dye said. "We have a lot we want to accomplish with a fairly limiting budget, which has brought about the addition of more 'home-grown' programming such as Knit-Wits, bingos featuring local products, and our upcoming Coffee Shop Series this spring."
Current objectives set by PAC to improve its offerings include fully evaluating who is coming to its events — or, more importantly, who is not.
Two demographics PAC knows it wants to try to cater to more are commuter and international students.
"We want to schedule programs at times that are more inclusive for commuter students as well as more culturally diverse events to foster more interaction between domestic and international students," Hannaway said.
It's not all fun and games for PAC moving forward though. That's because it has never been. Contrary to the common misconception about student programming boards, PAC's intention is not simply to provide meaningless fun.
Referencing national studies that show students who are more actively engaged in their campus (i.e. joining a student organization, attending non-academic events and activities) have higher GPAs and are much more likely to remain enrolled, Riordan-Dye sees even more positives coming from PAC.
"When done right, student activities are invaluable on every campus and I believe these awards help cement PAC's worth to Marietta College," Riordan-Dye said.
NACA is the recognized leader in higher education providing knowledge, ideas and resources for campus life. School members have access to one of the largest campus activities networking and talent buying resources in the country.