Panhellenic community to celebrate International Badge Day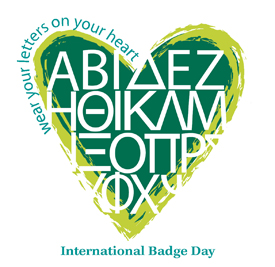 The Panhellenic Community at Marietta College is celebrating International Badge Day this March by wearing their badges, pins or quills.
The event will be begin Monday, March 3, throughout campus which will kick off Pro Panhellenic Week.
International Badge Day was established in 1997 by the National Panhellenic Conference to set aside a day or an event for women everywhere to wear their sorority badges or Greek letters in a celebration of sisterhood.
This year's theme is: "Wear Your Letters on Your Heart." National and international sorority groups are also participating.
"Being a member of a sorority on Marietta's campus has helped to make my college experience that much better," said Charlee Ottersberg, '15, Marietta College Panhellenic President. "I take pride in wearing my sorority's badge because it reminds me of the commitment I made to my chapter and the ritual that I hold close to my heart."
Throughout the week, the Panhellenic Community will host events at their houses for the rest of the Marietta College Community to participate in. Monday, March 3rd, everyone will dress to badge. Also on Monday, Alpha Xi Delta will have an open house from 6 to 7pm. On Tuesday, Chi Omega will host the community at their house from 6 to 7pm. Sigma Kappa will have an open house on Wednesday from 6 to7pm. Theta Phi Alpha's open house will be on Thursday from 6 to 7pm. The Marietta College Community is encouraged to come to these open houses to learn more about the sororities and their members.
The sororities in the Panhellenic Community are involved in a variety of philanthropies such as Autism Speaks, Make a Wish Foundation, Alzheimer's Association, and Glenmary Home Missioners and holds fundraisers such as AmaXIng Challenge, Pie-A-Chi, Paint-A-Kappa, and bake sales. The Panhellenic Community conducts numerous amounts of community service hours per semester and is proud of its continued partnership with the college community.
"This is a great opportunity for our Panhellenic women to explain why they value academic success, friendship, leadership, community service, and philanthropic fundraising," said Jacob Tidwell, Marietta College's Assistant Dean of Students for Campus Involvement. "In addition to exploring their values further, this is also an important week for the chapters to build and bolster friendship between their chapters in an effort to strengthen their entire community.  This week of special recognition and programming encourages the women to understand the impact they have in their classes, campus, and community."
About the National Panhellenic Conference (NPC)
NPC, one of the largest organizations advocating for women, is the umbrella group for 26 national and international sororities. NPC sororities are located at 666 campuses with 325,772 undergraduate members in 3,127 chapters. Alumnae are represented in 3,883 associations throughout the world. For more information, including a complete list of NPC sororities, visit npcwomen.org or find NPC on Twitter and Facebook.