Petroleum engineer by day, budding songwriter by night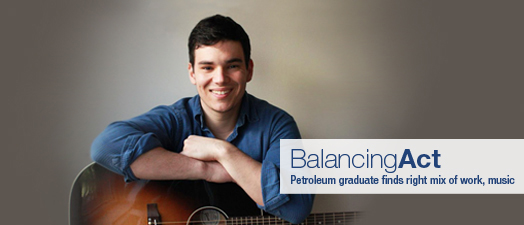 Wes Casto '09 is an accomplished songwriter, musician and petroleum engineer, proving that he knows what it means to strike the right balance between his hobbies and his career.
Casto, a Marietta native, began playing guitar at age 12. He continued to develop as a musician and started songwriting in high school. However, when choosing a career path, Casto turned to Marietta College's Petroleum Engineering program.
"I knew that music would play a big part in my life forever, but that role was not clearly defined," Casto says. "When it came time to choose a career path, the nearby Petroleum Engineering program is so revered in the community that it was hard to imagine doing anything else."
During his time at Marietta College, Casto took full advantages of the opportunities he was offered. While he still spent time with his friends and family in the area, he joined a fraternity and met new people. Casto also took his academic work very seriously and continued to balance his workload with his interest in songwriting.
"Academically, I had some good influences in my fraternity who really encouraged me to make the most of my education," Casto says. "I really viewed college as an investment and not a vacation. As far as music goes, I was mostly interested in becoming a better songwriter, so I didn't really take the time to go out and perform a lot. To me that would have been like putting the cart before the horse."
The professors in Marietta College's Petroleum Engineering and Geology Department had a major impact on Casto's undergraduate career, and he praises their devotion to their students.
"I can't say enough about the influence of my college professors," Casto says. "They were all great, but the department of Petroleum Engineering and Geology is really one of a kind. They don't spend their time working on research projects to boost their name and get huge grants; they are 100 percent dedicated to teaching students and finding jobs for them."
Dr. Bob Chase, Professor and Chair of Marietta College's Department of Petroleum Engineering, notes that one of Casto's best qualities is the ability to use both the artistic and engineering sides of his brain.
"It is unusual for students to develop talents using both sides of their brains, but I've had several besides Wes," Chase says. "Engineers are far from one-dimensional creatures and it is amazing how mathematics and (art) are entwined."
Casto began his career in petroleum engineering in drilling and completions, which involved working on oil rigs in the Gulf of Mexico and West Texas. Currently, he works for Wright & Company Petroleum Consultants, a small consulting firm in Nashville, Tenn. This position requires Casto to evaluate an oil company's future production and revenue streams and determine its present worth.
Casto's focus on his engineering career has not diminished his success as a songwriter and musician. Living in Nashville has given him opportunities to work with talented musicians and songwriters. He's opened for a Grammy-winning folk singer at a festival, and recently, he recorded an EP with his favorite songwriter John Prine's band. He also won a guitar by taking first place in a lyric contest held by American Songwriter magazine.
Though Casto enjoys music as a hobby, he is thankful to have chosen petroleum engineering as his career.
"After learning how the commercial music industry really works, I thank God I'm a petroleum engineer," Casto says. "The industry has a way of weeding out people who don't want to commit their entire lives to it, and I prefer music as a hobby. For me, creativity is unreliable and I would hate for my paycheck to depend on such a fleeting part of life. At the same time, I really appreciate good music because I don't associate it with work."