Petroleum major selected as 2013 McCoy Scholar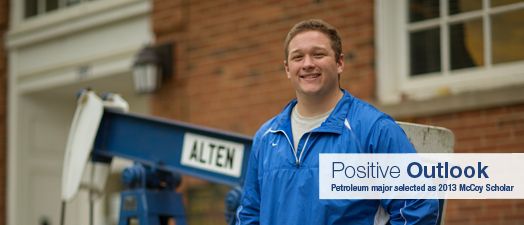 Before Brian Raiff '17 (Galena, Ohio) even stepped foot into a Marietta College classroom he was already making a positive impression.
While participating in the EXCEL Leadership orientation in August, Raiff started volunteering at the Boys and Girls Club in Marietta. He enjoyed it so much he has become a regular volunteer each week.
"We went there to help move some furniture around during EXCEL and I realized this was a place I wanted to keep helping," Raiff says. "I now help the young students with their homework and other school related assignments."
Once classes began on Aug. 26, Raiff didn't stop looking for extracurricular opportunities.
His get-after-it attitude is just one of the many reasons Raiff became the 15th McCoy Scholar. At 18 and only a few weeks into in college career, Raiff has already visited the Career Center to get tips on his resume and do some mock interviews.
"Brian rose to the top of a fantastic scholarship pool that included students from 43 states," says Jason Turley, Dean of Admission. "In addition to a stellar academic career that included 13 AP classes, Brian's performance at the Pioneer Scholars competition made him a perfect candidate for the John G. and Jeanne B. McCoy Scholarship."
Endowed by alumnus John G. '35 and Jeanne B. McCoy in 1998, the McCoy Scholarship Program promotes and recognizes outstanding academic ability and achievement by an incoming freshman student. As long as the student maintains a strong academic performance, the scholarship is renewed each year.
Early on his college search, Marietta College wasn't on Raiff's radar. He was interested in engineering and his top choices were Notre Dame, Case Western Reserve, Ohio State and Cincinnati. Then his father, Mark, mentioned Marietta's Petroleum Engineering major.
"My dad did a lot of research and then we talked about the rare combination of petroleum engineering and liberal arts, and I became more interested in Marietta," Raiff says. "I am very pleased with the program. It is extremely structured and they have a plan for you from the first day. They also provide the students with a lot of support, like a peer mentor, to answer questions and other things."
Raiff says he misses his father's cooking, private bathrooms and his mother (Katie) doing his laundry, but the transition to college life has been fairly smooth.
"I was lucky with the EXCEL week. The model they use keeps you so busy that you don't have time to think about home," he says. "EXCEL was a lot of fun and then I just hit the ground running. When classes started there was no big change."
Dr. Gama Perruci, Dean of McDonough, says Raiff's involvement in Leadership and the campus has been a positive experience.
"I'm really excited to have Brian as a new student at Marietta College. He brings maturity, energy and a genuine interest in his own intellectual development," Perruci says. "As a McDonough Scholar, he has already shown that he cares deeply about serving others and will make a difference in our community."
Raiff says he knew he wanted to be part of the College community even before he earned the scholarship, which includes tuition, fees, room, board and a computer, and is renewable for four years. But there was still some pressure to get a full ride to somewhere.
"Both my brother and sister got full rides to Ohio State, so they were set," he says. So far my parents have three out of the four on full rides." His sister Allie, 15, still has time to earn her full-tuition scholarship.
While Raiff acknowledges the financial relief that comes with winning the McCoy Scholarship, it also justified many of the choices he made during his time at Olentangy High School.
"There is a realization that all of the hard work really amounted to something," he says. "I never wanted to be the stereotypical student studying on Saturday night. I want to be knowledgeable but also social. I knew when I came here that no one would really know me, and I wanted to get my name out there for the right reasons."
So far he's excelling at that as well.