Pioneer Pipeline Program earns recognition from ACRES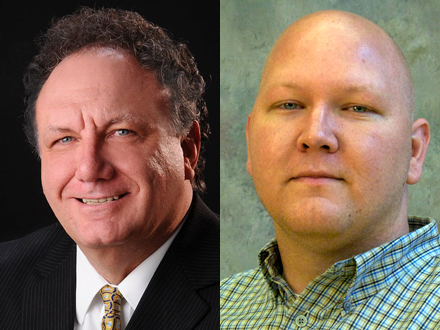 The American Council on Rural Special Education (ACRES) recently selected Marietta College's Pioneer Pipeline Program, which matches students with disabilities with college students, for an Exemplary Program Award.
Marietta College's Dr. Bill Bauer, McCoy Associate Professor of Education, and Dr. Chris Klein, McCoy Associate Professor of Psychology, are co-directors for the program. They will receive the award in the category of Vocational Training/Transition during a ceremony on Thursday, March 19, at the Hampton Inn New Orleans Convention Center.
"Among the many program attributes that offer our teacher education students — and mentors — is one of advocacy and acceptance," Bauer said.
Through the program, Warren High School students with multi-categorical disabilities, taught by Marietta College alum Miles Alexander '14, are matched with Marietta College Education and Psychology students.
"These mentors then provide job, academic and social recreational coaching here on Marietta's campus," Bauer said. "It's so neat to see the improved self-esteem of the Pioneer Pipeline students with disabilities and the improved self-efficacy and confidence of our Marietta College students who participate in this program."
Bauer said many of Marietta College's professors have allowed the Warren students to participate in their classes.
ACRES is a non-profit organization comprised of special educators, general educators, related service providers, administrators, teacher trainers, researchers, and parents who are committed to the enhancement of services to students and individuals living in rural America. ACRES was founded in 1981 by a group of individuals interested in the unique challenges of rural students and individuals needing special services.
ACRES is the only national organization devoted entirely to special education issues that affect rural America. The membership of ACRES is geographically diverse, and is representative of all regions of the country. This fact is especially important since rural issues are not only different from urban issues, but also may vary among specific rural areas.
"This award really speaks to the hard work and dedication of our teachers, students, and peer mentors in this program," Klein said. "We're able to provide a path to greater goal setting, self-determination, and career exploration for participants in the program, all hopefully leading to better employment outcomes."