Political Science professor named to national forensics board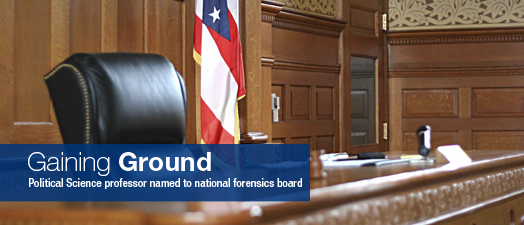 Though it's only been a year since Moot Court was resurrected at Marietta College, the program has garnered much success.
In addition to having four students compete in the 2012 American Collegiate Moot Court Association Midwest Regional Tournament at the College of Wooster in November, Marietta College's program received additional recognition this spring when Dr. McKinzie Craig was named to the ACMA Board of Directors for a one-year term. Craig is an Assistant Professor of Political Science and the director of the College's Moot Court Program. She began teaching at Marietta in 2012.
The Moot Court Program gives students who are interested in attending law school the opportunity to study, prepare and present constitutional law arguments. The ACMA provides a hypothetical case for each course that students read and then prepare arguments and a defense for their positions. The course highlights the quality of reading, researching, writing and public speaking skills involved in the field of constitutional law.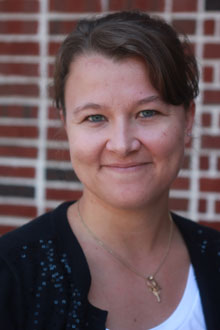 ​"In addition to strengthening oral and written communication skills, Moot Court provides opportunities for Marietta College students to visit law schools across the country," she says. "The national Moot Court competition is held at a different law school every year and the students are given information about that school, fee waivers, tours, etc., and it can expose them to schools that they may like but never considered applying to. Past hosts of the national tournament include Tulane in Louisiana and Chapman in California."
This year, the governing board expanded to include 15 members, who serve terms ranging from one to three years. The board makes all decisions pertaining to the governance of the Moot Court Program, including the cases that will be studied for each academic year and the logistics of where competitions will take place.
"Professionally, it gives me an opportunity to serve the American Collegiate Moot Court Association and provide a voice for small liberal arts colleges like Marietta," Craig says. "Personally, it was exciting because I was an undergraduate competitor in the organization years ago and serving on the board has allowed many of my mentors to become my colleagues."
Craig will attend the ACMA Executive Board meeting at the end of July at the University of Nevada, Las Vegas.
Dr. Mike Tager, Associate Professor of Political Science, says Craig's new role will help strengthen the pre-law program at Marietta.
"We were very pleased that Dr. Craig was selected to serve on the Board of Directors of the American Collegiate Moot Court Association (ACMA)," Tager says. "Not only does it recognize her fine work in just a year of directing Marietta College's Moot Court program, but it will raise the profile of our program nationally. It will also give her an opportunity to network with other collegiate pre-law advisors and get ideas for how to strengthen our pre-law program. This fall she will take over as Marietta College's pre-law advisor, and we're sure what she learns in her new ACMA leadership position will benefit all our pre-law students at Marietta College."