President Bruno provides students with College update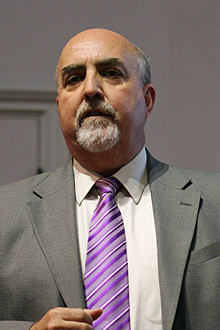 President Joseph Bruno's first ever State of the Campus Address Wednesday made it clear that after only 15 months on the job, he already has a detailed vision for the future of Marietta College.
Bruno spoke to students about new ideas for the College, including hopes for a large solar energy project to get underway and the recent approval of a new academic program in Land & Energy Management.
"We have a creative campus," Bruno said in his speech. "Faculty are always thinking about the next great thing."
The inaugural address was a collaboration between Bruno and Student Senate, spearheaded primarily by Student Senate President Jessica Johnson '14 (Johnstown, Ohio).
"This is our effort to try and create a better line of communication and keep students informed," Johnson said. "After listening to that speech, I'm really excited to see what changes are going to be made during President Bruno's administration."
Mentioned in the address was the need to fix the gender imbalance in student enrollment. Currently, the student body is more than 60 percent male. Bruno, who said that diversity "is a key part of the learning experience," does have plans to decrease the gender gap as well bring in more international students.
He made sure to highlight accomplishments made by Marietta faculty and staff in his first year as president. Included was the inaugural symposium that occurred recently between Marietta College and the University of International Relations in Beijing. The symposium was "splashed all over the media" in China according to Bruno, who said he plans to keep recruiting there and keep the College's international profile high.
The president also said the school is preparing for its periodical accreditation review coming up in fall 2015. The College will team up for this process with the John N. Gardner Institute. Gardner is an alumnus of Marietta College and a national leader in improving undergraduate learning and retention.
Other projects the College will be undertaking are the design of a summer curriculum and the founding of alumni chapters. The first one will be in Washington, D.C., starting in November.
Bruno also briefly addressed parking, an issue that has been of particular nuisance to the administration this year. He strongly encouraged students to purchase permits and park on campus in order to alleviate complaints from Fifth and Sixth Street residents who struggle to find parking near their homes.
"We have to be good neighbors," he said. "There is room for you to come back home!"
The speech concluded with Bruno's dream to someday have a new student center completed, which would involve a complete remodeling of Gilman. However, he assured his audience that this project would not be until many years down the road.
Bruno reminded the audience that the main reason for his agreement to give the address was to interact with students. He thanked Senate for allowing him to bring to fruition an idea that he said he had been wondering about for over a year.
Hollie Young '17 (Ripley, W.Va.) attended the address with fellow members of College Democrats. Young thought the address was a great connector between President Bruno, students and the rest of the faculty.
"Student Senate taking the time to ask him to speak to us is an excellent show of our enthusiasm as Marietta College students," Young said. "I'm glad I came."