President Bruno rides final leg of Cycle 4 Sami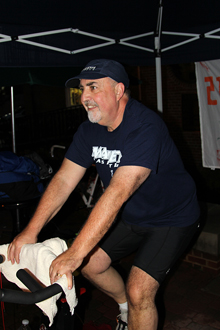 As Erwin Tower chimed out the 8 o'clock hour, President Joseph W. Bruno wheeled off his closing sprint.
"There she goes," said Cameron Smith '15 (Urbana, Ohio), "we did it, guys. Great job!"
For 168 hours straight, 41 different students, staff, faculty and alumni took turns riding stationary bikes nonstop for a member of the Marietta College community who is battling lymphoma.
"Way to go, guys," Bruno said, as he began his cool-down. He rode for the final hour Wednesday morning.
The Cycle 4 Sami fundraiser began when brothers in the Alpha Tau Omega fraternity learned that their fellow classmate, Sami Hood '14 (Pittsburgh, Pa.), was diagnosed with cancer and had to leave campus to begin treatment.
Smith, who organized the seven-day fundraiser, said Hood is aware of what campus is doing to support her and is grateful.
As of Wednesday morning, the donation pool had climbed beyond the $2,200 mark. All of the money raised will help offset the cost of Hood's treatment.
"I can't believe how much ATO and the rest of the Marietta College community rallied behind the event. It was motivating, especially for those doing the night shifts to receive coffee or hot chocolate from faculty during the night," Smith said. "It was really cool seeing other organizations help out as well as we had several soccer girls, track members and football players all ride in the event. President Bruno finishing off the ride was an awesome way to really show how much the community supported the event for him to be able to take time out of his day to help us out."