Professor Robert L. Jones shared his passion for history with students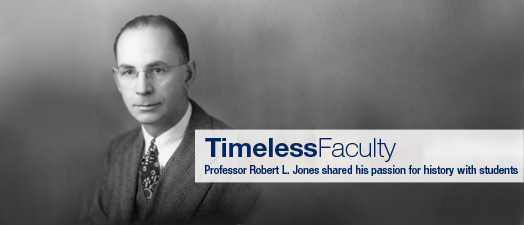 The years surrounding Marietta College's centennial anniversary were anything but smooth sailing.
From the Great Depression to the depleted student enrollment numbers caused by World War II, there were plenty of challenges facing Marietta. But in 1938, a young professor arrived on campus for fall semester, ready to make a difference in the lives of his students as well as in the health of the College.
Fresh from earning his doctorate from Harvard University, Dr. Robert Leslie Jones was hired to teach after history and political science professor Joseph Manley and William Gerrish left the faculty.
"His expertise was in the history of agriculture," says Dr. Irene Neu Jones '44, who was one of his students. She taught history at Indiana University Bloomington and would often see her former professor during academic conferences. "He was also very interested in Far Eastern history, European history and African history; but he wrote two books on the history of agriculture — the history of agriculture in Ontario, which is where he was born, and the history of agriculture in Ohio."
Professor Jones was born on April 4, 1907, in Cobden, Ontario, Canada, to Robert and Martha Caswell Jones. He and his first wife, Maud Lacey Jones had two daughters — Constance Jones Mathers and Natalie Jones Kavuola. Professor Jones later married his former student, Irene Neu, after his wife's death in 1975.
He earned his undergraduate and graduate degrees from Queens University of Kingston, Ontario. In 1929, he obtained a teaching certificate from the Ontario College of Education in Toronto and began teaching high school. In 1931, he earned his second graduate degree from Harvard University, which his where he eventually earned his doctorate in 1938.
When he joined the faculty at Marietta, there were about 400 students and roughly 30 faculty.
"He was a very tough professor," Dr. Neu Jones recalls. "But he was also very fair. He knew his material and never used notecards during his lectures. It was remarkable and it showed his level of expertise."
After teaching at Marietta for six years, he was named a full professor. In 1966, he was named the first Andrew U. Thomas Professor of History, a credit to his talent in the classroom.
"It was passed from class to class that if you were late to class and the door was closed, you shouldn't even bother to go in," recalled former Marietta College librarian Sandra Bessemer Neyman '62, who passed away in 2011. She was interviewed about Professor Jones for a tribute article in The Marietta Times. "When the class was over at whatever time it was supposed to end, he would stop at that time precisely, sometimes in mid-sentence, and pick up in the next class at exactly where he left off, even if it was in mid-sentence."
Professor Jones sponsored the founding of the Delta Tau Delta chapter at Marietta in 1967.
Very much respected by his peers, Professor Jones' advice was often sought on matters outside the parameters of a history instructor. When President William Shimer was facing dismissal by the Board of Trustees for divorcing his first wife and marrying a member of the College's administration, Professor Jones was asked to speak on behalf of the embattled president. More than 40 years after the incident, Jones was interviewed about that difficult time in Marietta's history and his memories of witnessing President Shimer defend his actions.
"It was really a very painful thing to listen to," Professor Jones recalled in the College's second history book, In the Various Branches of Useful Knowledge. "Here he was, baring his soul about his [first] marriage. It was quite embarrassing. He didn't say anything against his wife — just that they were incompatible…I couldn't see that he had done anything to be condemned for [the divorce and remarriage]. I couldn't think of anything wrong then, nor can I think of anything now."
Professor Jones retired from Marietta College in 1975, after teaching for nearly 40 years. He passed away on Oct. 3, 1989, in Marietta.
In the April 1976 edition of Phi Alpha Theta History News, an article appeared about Professor Jones.
"As a teacher, Dr. Jones has been recognized for (1) the very high standards his students are expected to meet, (2) his annotated bibliographies and most of all, (3) his amazing talent for delivering lengthy and complex lectures without notes," the author writes. "When questioned as to the secret of this remarkable ability, he said, 'there is no great mystery about it. It comes simply from a thorough mastery of the subject matter.' "