Professor, student team up to write peer-reviewed article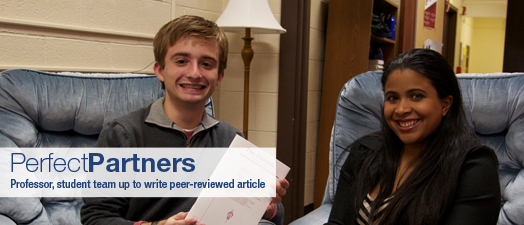 Even by the typical Marietta College student, Ben Reese '13 (Marietta, Ohio) has a crazy schedule.
Preparing for two capstones (Economics and Political Science), competing on the forensics team and keeping up with his studies are just a few of his obligations that consume a majority of Reese's day.
Still, when asked he found time for one more major challenge — co-authoring a paper with Dr. Tomeka Robinson in a peer-reviewed academic journal. The article, "Digitizing Forensics: Coaching the Net Generation," was recently published in The Forensic of Pi Kappa Delta.
"I couldn't have imagined publishing an academic article before graduating college even as recently as last year when we put the piece together," Reese says "I found it difficult to imagine even having the time to help put an article together, not to mention face the intimidating review process. Working with a faculty member made the prospect much less daunting, however, and assisting Dr. Robinson in the authoring of this article was definitely a rewarding experience."
Robinson, Assistant Professor of Communication and Director of Forensics, views Reese's contribution as a vital part of the article's success.
"I am a firm believer in the importance of student scholarship and I couldn't have picked a better student to go through this process with," she says. "When going through the writing and revision process, Ben was always very prompt with his edits and suggestions, including edits while he was studying abroad in the UK over the summer."
Robinson approached Reese about co-authoring the paper because he was the student who prompted the attempt to coach forensic practices digitally via Skype and Facebook Chat when the students were away from campus during a break.
"He was able to give a student's perspective on the importance of keeping up with technological advancements," Robinson says. "Getting published at all as an undergraduate student is an amazing accomplishment, it is even better when you are published in a peer-reviewed academic journal that is read by most forensic educators in the country. I am very proud of his work."
Reese says he did not have a grasp of how academic publications worked, and was not particularly familiar with most of the literature and theory that is used in the forensics field.
"Working with Dr. Robinson was a great experience, especially because the article focused on something that had been a joint initiative and which we had both worked to implement on Marietta's team," he says. "The entire process familiarized me with the submission and review process in academic publications; while the review and revision process could be frustrating at times it was also highly rewarding in terms of crafting a better article."
Robinson says she presented on the topic at the 2011 National Communication Association Conference in New Orleans, and based on the positive response from several coaches is why they pushed forward with the article.
"This is the first article to be published with practical information about how to incorporate digital technology into forensics pedagogy," she says. "Therefore, it is our hope that since we discuss the how to's, advantages, and disadvantages of each software platforms that more forensic educators will start using digital technology into their forensic coaching and that this prompts further research into technology and forensics."
Now Reese can focus his attention on those pesky capstone projects and competing for the forensics team in the spring. He also has a chance to appreciate what he has accomplished.
"At the end of the day, I am most proud of having contributed to the literature surrounding the activity of forensics and to the theory and ideas behind coaching/competing in way that most competitors never have the opportunity to pursue," Reese says. "I am glad that Dr. Robinson offered me the chance to assist her in authoring this piece and I hope that it proves helpful to other teams on the circuit."