Psychology professor earns distinguished teaching award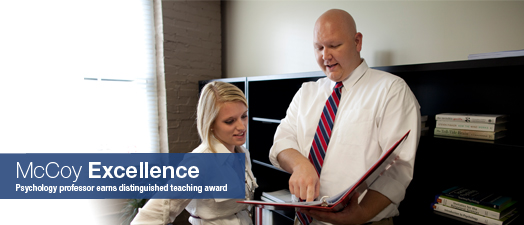 When Erica Goebel '16 (Rittman, Ohio) learned that Assistant Psychology Professor Dr. Christopher Klein earned the 2014 McCoy Professorship Award, it came as no surprise.
"Dr. Klein is an amazing professor," she says. "I have learned so much from him, and I've learned a lot outside of the subject area. He has taught me how to be confident in my abilities, how to work hard and get the results I want, and he has been there for me 100 percent."
With this honor, Klein has created somewhat of a tradition for the psychology department, as he is now its fourth McCoy Professor.
The McCoy Professorship Award was originally established in 1993 as part of an endowment donated by former Trustee John G. McCoy '35. It is the highest teaching award that can be given at Marietta College, and any professor chosen to receive it never loses his or her designation as McCoy Professor.
"Although I was happy for (Dr. Klein), I was not surprised," says Dr. Ryan May, Psychology Department Chair and 2008 McCoy Professor. "Dr. Klein is an excellent professor who is dedicated to student learning. He frequently goes above and beyond the call of duty to help students in any way that he can. It is not uncommon to see a line outside of his office with students waiting to talk with him."  
Klein was chosen by a selection committee made up of faculty members who themselves have been recognized for their teaching excellence, and teach at small, private colleges in the area. This year, those colleges included Baldwin Wallace University, Denison University, Kenyon College, Otterbein University and John Carroll University, says Associate Provost for Academic Administration Mark Miller.
This summer, after being nominated by McCoy Professor of Psychology Dr. Mark Sibicky, Klein created an electronic portfolio of teaching materials in order to build a case for his election. He eventually became one of three finalists. Before choosing Klein, the committee traveled to Marietta College to observe his classes, have a Q&A session with some of his students, and talk to him individually.
Provost Karyn Sproles says no one from Marietta College participated in the search in order to "avoid any internal politics." Though she had no role in choosing Klein for the award, she was able to sit in on one of his graduate seminars. Sproles called Klein's class "artwork," saying it was the most relaxed, natural instruction she had ever seen.
"It appeared to be effortlessly organized to create high-impact interactive learning," she says. "It was impressive."
Klein recognizes his students, saying that his award is a testament to their hard work and willingness to persevere in his courses.
He was "tremendously honored" to receive the award. Yet even in his moment of recognition, he remained humble.
"The thing that I'll give credit to is that Marietta College is an institution that really values teaching, and the McCoy award is an example of that," he says.
His students see this award as a testament to his commitment to providing them a great education.
"Not a lot of teachers care about their students the way he does," Goebel says. "He makes me feel like he personally wants me to succeed and will do anything in his power to help me. He has gone above and beyond his duties for all of us; he is one of the best teachers I've ever had. He has made a difference in my education, and in my future. He absolutely deserved this award."