Registrar held decades worth of Marietta College memories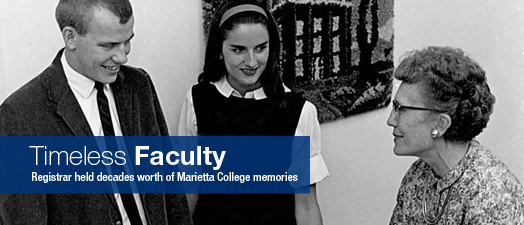 The Saturday Lillian Spindler Sinclair arrived on Marietta College's campus was one she never forgot.
She recently learned the business she thought she'd work for had moved to Cincinnati. She walked to campus from her Marietta home on that hot afternoon in August 1919 determined to find a way to attend Marietta College. That was her real dream.
"I remember Bart Cisler was mowing the campus lawn," she said during an interview with the late Joan Pritchard, who wrote for The Parkersburg News and Sentinel. At the time of the interview, Sinclair was 91 years old. "In those days the college let the grass grow all summer and Bart would mow and use the mowings for hay. I can still hear the bees."
When she entered Andrews Hall, she met George Blazier 1914, who was serving as the student secretary — the equivalent to today's Director of Admission — at the time. He was plucking away at a typewriter when he noticed the young woman.
"She informed him of her desire to go to college and the fact that she needed financial help," Pritchard wrote. "Blazier asked if she could type, and she said she had a semester at school. He gave her some papers to take home and from that she was able to get a half scholarship."
Born Lillian Spindler on Dec. 16, 1901, she was the first of four children of parents William H. and Amy Elizabeth Henry Spindler, of Marietta. She graduated from Marietta High School on June 13, 1919.
By the time she enrolled in classes for the fall semester, the company she intended to work for after high school had offered to pay her $25 a week to move to Cincinnati and work.
"I was registered in college at this point. I took classes in the morning and worked in the afternoon. I didn't know what to do, so I went in to see President (Edward) Parsons, and he said, 'Get your education! We'll find something for you to do here.' I was given a job in President Parsons' office."
After earning a degree in Modern Languages (French and Spanish) in 1923, she worked as the financial secretary. In 1926, the registrar position was vacant after Pauline Yates Trout married and retired from that post. Sinclair inquired about the job, which was promised to Frances Putnam, who lived in Oklahoma. When Putnam sent a telegram to the College declining the offer, President Parsons turned to Sinclair.
 Twenty years after graduating from Marietta, she met Thomas Gale Sinclair in a local music store and married him on July 31, 1943.
"We had a reception at the president's home, which the college had bought in 1937," Sinclair said. "We had our wedding picture taken on the front steps."
Mr. Sinclair worked for the Ford Motor Agency and later worked at and bought the Union Hardware Store. He died June 19, 1961.
Sinclair served Marietta College for 41 years as its registrar. In 1967, specific mandates required her to retire from that position, though she served an additional five years as faculty archivist. In all, her tenure at Marietta lasted for 49 years.
"She brought a sense of order and thoroughness to the thickets of the registrar's duties. For all that time she followed the academic trails of every matriculant to make sure they met, on time, fully and in proper sequence all departmental, divisional and graduation requirements. To her, every student seemed a "special case" calling for nagging, cajoling, alarming (or whatever treatment might work), but never a nuisance. Her patience was boundless," Vernon "Dan" McGrew wrote in the College's second history book, In the Various Branches of Useful Knowledge.
When she retired in 1972, the Board of Trustees recognized her contributions to the College with a resolution that said, "No member of the College community has known or cared more deeply about the College and the men and women who have constituted the College since 1923 than this able and engaging lady."
Marietta College Alumni Association Board President Lee Berg-Gardner '67 spoke about Sinclair on Oct. 28, 1978 during the Homecoming Breakfast, when the Emeritus Registrar was named a Distinguished Alumna of the College.
"This much is certain: unlike some figures considered heroic, this woman's feet were not made of clay," Berg-Gardner said. "Her credentials were as solid as a piece of the rock. Always on the job, reliable, respected for integrity and principles and accuracy, she was, and still is, an authentic original."
Even after retiring, she continued to provide a wealth of historical knowledge of the College. In 1976, she was named Zonta's "Woman of the Year." In 1999, she was inducted into the MCAA's Hall of Honor.
Sinclair died on Feb. 24, 2003, at the age of 101.
"Lillian Spindler Sinclair epitomized Marietta College. Intellectually curious, gracious, and committed to students, she remained a friend of the College and of generations of students," said Dr. Jean Scott, then-Marietta College President. "When I visited her, she talked with equal ease, candor, and deep caring about student life in the 1950s, the careers of individual graduates, and the direction of the College today. She was a great lady, and I know that thousands of alumni whose lives she touched, as she did mine, join me in celebrating her extraordinary life."