Registration for Great Decision Series opens in November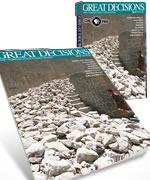 Marietta College's McDonough Center for Leadership & Business will once again be hosting the Great Decision Series in early 2016.
"The Great Decisions Series is a wonderful opportunity for the community to come together and discuss critical issues facing the United States," said Dr. Gama Perruci, Dean of McDonough. "I think it is valuable in a democracy for its citizens to give the decision-makers input on current affairs. It gives policy makers insights into the electorate's perspective about these issues."
Perruci added that McDonough likes to provide this opportunity to promote community discussion on current international issues. The series is part of an annual national project organized by the Foreign Policy Association (FPA), with headquarters in New York City.
Now in its third year at Marietta, the Great Decisions program typically has 30-35 members — who range from students, to professionals, to retirees — who meet each Sunday from 2-4 p.m. for six weeks. The weekly sessions are divided into two parts — a guest speaker (review of the topic by an expert in the field) and discussion of the topic facilitated by McDonough Scholars.
The topics that will be covered this year include the rise of ISIS, migration across the Mediterranean Sea, the Koreas, the U.N., climate change and Cuba and the U.S.
The program begins Jan. 17 and will conclude on Feb. 21. Registration begins in November and can be done online at https://webapps.marietta.edu/~lead/?q=Great%20Decisions%20Series. For additional information: lead@marietta.edu.