Relationship with city, College helped 1980 grad grow company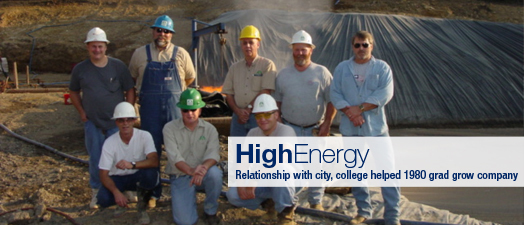 After graduating from Marietta College, Jerry James '80 had the opportunity to live all over the United States.
As President of Artex Oil Co., James loves the simpler life that living in Marietta, Ohio, presents him.
"I've been fortunate in my career that I've worked in some nice towns and everything, but Marietta … has a lot of history and is a beautiful town," says James, who earned a Bachelor of Science in Petroleum Engineering. "It's a lot easier lifestyle than in the big city."
James is also proud to say he has 10 Marietta College graduates working at Artex, and he has also employed more than 100 interns from his alma mater over the years. Marietta's Petroleum Engineering programs remains the only one at a liberal arts institution.
"I came to Marietta College because they had a petroleum engineering program," he says. "Petroleum engineering was something you could go and get several job offers when you graduated."
James also notes that living in Marietta in no way impacts the overall success or profitability of his business since technology allows his team to do everything a larger company can accomplish. 
"We've been producing oil and gas in the Mid-Ohio Valley for 150 years. Even with that kind of history we're actually right on top of one of the most cutting edge places," says James, a member of Marietta Petroleum Engineering & Geology Hall of Fame.
James' success and involvement in the Marietta community drew the attention of a volunteer group that is working to promote the virtues of living in the area. The Marietta Community Foundation, which was founded in 1974 and first led by the late Marietta College Trustee Carl Broughton, is sponsoring the Good Life Marietta campaign. James is featured in one of their promotional videos that you can watch now.