Rickey Scholars make instant connection through physics, humor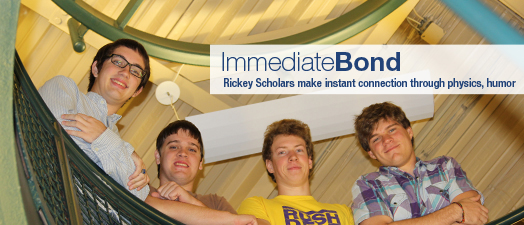 Before arriving on campus in August, this year's four Rickey Scholars didn't know much about each other.
In less than one semester, London Bortell '16 (Vienna, W.Va.), Austin Burns '16 (Stockport, Ohio), Casey McGuire '16 (Mingo Junction, Ohio) and Mike Muzilla '16 (Wadsworth, Ohio) have become the closest friends.
"I would say that we definitely have a certain bond. Especially in the freshmen class, we are not only the Rickey winners, but also the only Physics majors in our class," McGuire says. "We all have formed a certain bond that I feel comes from the knowledge that we don't just have these few classes together, but that our next four years will be spent in each other's close company."
Muzilla says they have even developed some good-natured jokes for their peers.
"As Physics majors, we poke fun at the Petro guys for just going after money, and crack science jokes that the liberal arts majors just wouldn't understand," Muzilla says. "It is, of course, all in good fun. On top of that, the rigorous course work, especially at the upper levels of the curriculum, is definitely going to be a catalyst to increase the bond we share. I can foresee many long nights of studying with Casey, Austin and London."
The Rickey Scholarship is a merit-based $18,000 per year scholarship, renewable for up to four years. David M. Rickey '78 and the J&D Family Foundation established the Rickey Scholarships in Physics in 2001.
 
The scholarships are competitive and are available to full-time students who intend to major in Physics with the goal of continuing on to graduate school and a scientific or technical career.
"This year's Rickey Scholars bring a range of goals for the future, including pursuing physics teaching, physics research and astronomy research," says Dr. Dennis Kuhl, Associate Professor of Physics.
 
The Rickey Scholarship is renewable on an annual basis provided the recipient continues to major in Physics while making normal progress in the Physics major curriculum, and maintains a grade-point average of at least 3.25, both overall and in the courses required for the major.
"It definitely helped to ease the financial burden on my family. However it also showed me that hard work pays off and it serves as an incentive to keep my grades up in college," Burns says.
Muzilla says the timing of the Rickey Scholarship was perfect for him and his family.
"My older brother is in his senior year at Ohio Northern, and my younger sister is just starting at a private high school. Needless to say, any financial relief was, well, a relief," he says. "Apart from the constitution of the Physics program itself, the Rickey Scholarship showed me that Marietta takes a personal interest in its Physics students and wants to gather together a group of individuals who are serious about the subject."
Each scholarship winner says the transition to college life has gone extremely smooth. Bortell, who is commuting, says he hopes to live on campus in the future.
"I may get to stay on campus eventually, but I'm thankful to have the opportunity to study here," he says. "Winning the Rickey has been a huge blessing for my family and I. Without it, I definitely would not be at Marietta and I might not have decided to continue my education in physics."