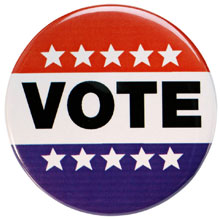 Election season has officially begun and Marietta College's Office of Civic Engagement is encouraging students to get involved through education on the issues and getting out to vote.
In order to do so, the College is sponsoring several events to help students gain more information about the races and issues on the ballot, to register to vote (at their home addresses or in Washington County) and to cast their ballots.
"The planning process for these opportunities has truly been a collaborative effort, something we don't always associate with political engagement," said Arielle Jennings, Director of Civic Engagement. "I am so impressed with how constituents from all over campus, including students represented from all of our political student organizations, have come together in the process."
From noon to 1 p.m., Monday Sept. 24, an event titled 'Get Informed: Election 101' will take place at the McDonough Gallery. This event will be especially useful to first-time voters; it includes a presentation on the ins and outs of political parties, some of the major issues of this year's campaigns, and the election process itself. A pizza lunch will be provided. Reservations can be made online.
On Tuesday, Oct. 2 will be an all-day voter registration drive called MC Rocks Registration! Student groups will be present on the mall to encourage registration and offer information, and interested students can get assistance with registering themselves to vote — all who do will receive an "I Rocked the Vote!" button.
From 9-10:30 p.m. on Oct. 22, in The Gathering Place, students can view the final presidential debate in a large campus forum with snacks provided. Smaller, less formal viewing events will also be held in Harrison Hall for the other three televised debates.
Finally, on Nov. 6, MC Rocks the Vote! General Election Day will take place. Vans will depart from the Herman Fine Arts Building every 20 minutes from 7:30 a.m. to 7:30 p.m. and shuttle students to and from polling locations. Various students groups will also be voluntarily promoting the event all over campus.
For a full list of events, stop by the Office of Civic Engagement, located on the second floor of the McDonough Center for Business and Leadership.
"I appreciate the initiative the College is taking to encourage the students to care about the issues and get to know the candidates" said Erica Goebel '16 (Rittman, Ohio).
The deadline for voter registration is Oct. 9.