Roger Patterson '62 embraces life in a college town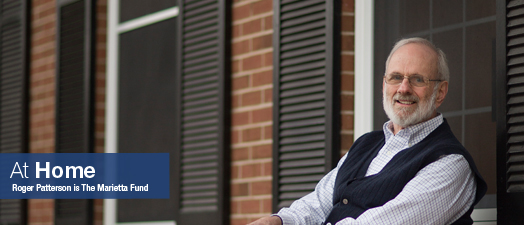 Roger Patterson '62 couldn't imagine living in a community that didn't have a college.
"Marietta College is a gem in the Ohio Valley," he says. "It provides so many cultural activities to the community and it also provides a high quality liberal arts education to its students."
As a local kid, Roger remembers a visit from the late Marietta College Dean Ruth Wilcox during his senior year at Marietta High School.
"Her advice to me was to go to college out of the area, though I knew I wanted to go to a small college; I didn't think I could afford Marietta College," he says. "I ended up going to Ohio University but I knew right away it was too big for me so I transferred to Marietta College my sophomore year."
He received some help from the College and, to keep his family's costs lower, he lived at home and commuted to campus daily as he earned degrees in History and Political Science. But he also made it a point to truly embrace college life by spending as much time in the domain of Marietta College as possible.
"I arrived on campus at 7 a.m. and didn't leave until at least 4 p.m.," he says. "I pledged with the ATOs, I participated in the theatre and I made friends. Between classes, I had the ATO house to go to and hang out with friends. Though I didn't actually sleep on campus, it still felt like home."
By being an active donor to The Marietta Fund, Roger protects the types of student experiences that had a great deal of impact in his life personally and professionally. The annual fund drive, which wraps up on June 30, has a goal of $1.85 million.
He credits being involved in a fraternity for helping develop his leadership skills and his ability to get along with others.
Some of his fondest memories revolved around the Drama Department and Willard "Boss" Friederich.
"The Great Hall (in Andrews) was where the theatre was," he says. "I really cherished my time participating in drama and will always remember Boss Friederich, which is how he was commonly referred to. I remember he had a sign in his office that said, 'The boss is not always right but he's always the boss.' "
After graduating, he moved out of the area and eventually returned to Ohio University to earn a graduate degree in education. Within a few years, he was able to return to the area to teach and become the principal at Frontier High School.
"I came back in 1972 and was the ATO advisor from '73 to '77," he says.
He had to put his advising on hold as he embarked on a new career as the Dean of Student Services at Washington State Community College.
"For this little city to have a four-year liberal arts college, a two-year community college and a career center is amazing to me. We really are fortunate to live here, I think," he says.
He reengaged with the ATOs after he officially retired from Washington State.
"My advice to graduates who want to stay engaged is to come back as often as possible," Roger says. "Two years ago, I had my 50th class reunion. We had 80 people, including alumni, their spouses and friends, come to campus to celebrate. Within minutes, I heard comments from classmates saying 'It's like we never left.' They still felt that connection and realized how much they missed being here."
These days, Roger can be seen riding bicycles around town with one of his grandsons, or taking in plays and basketball games on campus, or meeting with brothers in the ATO house.
"I know from experience that coming back to Marietta College is a special feeling," Roger says. "I'm very lucky that I only have to go a block to get back to campus."
Roger Patterson is The Marietta Fund.