Rosey Raths '18 selected 16th McCoy Scholar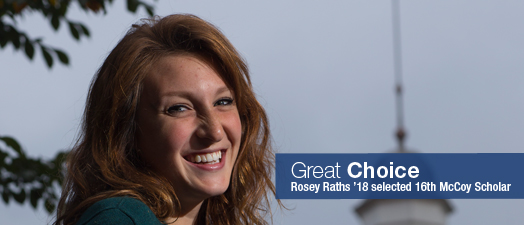 Late one afternoon this past spring, Rosey Raths '18 (Succasunna, N.J.) was enjoying a typical teenage day when her phone rang. She recognized the Marietta area code, but didn't think much of it. Calling was her Admission Counselor, Kelli Barnette.
What could she want? Barnette had already shared the good news with her that she had received a nice scholarship package and Rosey was already talking to her parents about a future as a Broadcast major at Marietta College. Undaunted and curious, she answered the phone and received even better news.
"When she told me, I tried to act calm, but I was excited and was jumping up and down," says Rosey, who graduated from the Linsly School in Wheeling, W.Va.
Rosey learned she was named the 2014 McCoy Scholar and the 16th since its inception. The John G. and Jeanne B. McCoy Scholarship Program was endowed in 1998 by John G. '35 and Jeanne B. McCoy to promote and recognize outstanding academic ability and achievement in an incoming freshman student. The award includes tuition, fees, room, board and a computer, and is renewable for four years.
As Barnett spoke with Rosey and got to know her better, she realized Rosey would be a perfect fit at Marietta College.
"I knew she was going to be a huge asset to Marietta College when I watched her at an open house approach another student who was also there alone; she introduced herself, sat down, and talked to him like she had known him forever," Barnette says. "I was so excited when Rosey made the decision to become a Pioneer, and I consider myself lucky to have had the opportunity to help her through the process."
While the McCoys are no longer alive, Rosey says their willingness to understand the importance of making the Marietta education affordable and supporting the scholarship was proof how much they loved the College.
"This has made so many futures possible," Rosey says. "This provides me the flexibility to now consider studying abroad or just to explore. If I didn't have this I would feel an obligation to take just the classes I have to take. I'm so grateful to both of them — even though I don't know them. I can't imagine not having it."
Rosey's mother, Alison, admits that she and her husband, Christopher, were not familiar with Marietta College. But as her daughter spoke about the opportunities available, Marietta remained on their radar.
"I know I'm her mother, but I am so thrilled that Marietta saw the gem that she is. You worry that other people won't see what you see in your child that makes them so special," Alison says. "But the people at Marietta recognized that something special in Rosey — that she's sweet, smart and a team player. I'm so delighted Marietta saw this in her."
In just a few weeks on campus, Rosey is exploring. She's a member of the cross country team and a McDonough Scholar. Rosey is volunteering with Belpre in Bloom and joined Intervarsity Christian Fellowship.
"I came from a boarding school so I think I adjusted quickly to living on campus," she says. "I have to set my own boundaries, but I think I'm doing that well. I like being on campus. I like that I can go to the dining hall whenever I want. I like that the Walmart is open 24 hours a day — that is really the greatest thing."
Rosey's parents believe Marietta College was the greatest thing that could have happened for their daughter, and they can't wait to see how she matures over the next four years.
"We are proud of her and what she has accomplished," her mother says. "She was ready to commit to Marietta before she received the (McCoy) Scholarship. When she visited, she told me how she had already exchanged numbers with people and how she loved the vibrancy of the campus. Marietta made a great choice in Rosey, but Rosey also made a great choice."