Science educators benefit from Rickey Summer Institute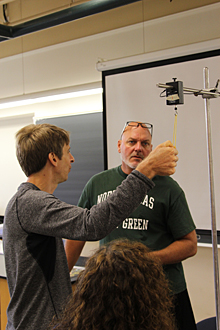 Gathering in a first floor lab in Rickey Science Center, a group of 17 teachers broke into small teams to work through a variety of lab experiments that will improve their ability to teach a specific physics topic to their high school students in the coming academic year.
High school science teachers from Ohio, West Virginia and western Pennsylvania participated in the 13th annual Rickey Summer Science Institute — a five-day, hands-on teaching seminar that, this year, focused on the physics of motion and force.
"It's so great to work with the faculty because they challenge our understanding of the topic and really make us think about what we are learning and how we can teach it to our students," says Jennifer Fowler, who will teach at Ravenna (Ohio) High School, this fall. "I also really appreciate the professional collaboration part of the week."
Led by Marietta College physics faculty, the weeklong seminar stems from a generous donation made in 2001 by alumnus David Rickey '78 and the J&D Family Foundation. The endowed program includes provisions to cover the cost of each teacher's room and board for the five-day institute, and for materials and computer programs to be provided to each teacher for use in their classrooms.
"The Rickey Summer Science Institute is made possible by the original Rickey gift," says Dr. Dennis Kuhl, a Rickey Associate Professor of Physics at Marietta. "It's been great for us as a physics department to get to know the teachers."
Kuhl says the program has two main goals.
"The first is altruistic — to do something to help physics teachers with what they do," Kuhl says. "The continuing education credits that this provides the teachers are free. Every year, we pick a theme and give them ideas on how to teach that theme. We try to give them enough equipment, hardware and software so they can bring this theme into their classrooms."
Kuhl says high school teachers often struggle to find the funding to either go to workshops such as the Rickey Summer Science Institute or to purchase the materials needed to teach the information to students.
The other benefit of the institute is for student recruitment.
"We get to know these high school science teachers and they get to know us and our department," Kuhl says. "They know what Marietta can offer their students."
The high school teachers attending the institute also agreed there is another benefit to the program.
"For many of us, we are the only people in our building who teach physics — so there is no one at my school that I can go to and discuss our subject," says Dawn Logan, who teaches at Bethlehem-Center High School in Frederickstown, Pa. "This is my second year coming to Marietta for this and, last year, the instruction, information and materials I received were so valuable to my students. Plus, I have emailed Dennis (Kuhl) several times during the year when I've needed help with breaking down subject material. There's not another physics resource in my building, so being able to contact him is very helpful."
Elizabeth Houck, who is a special education teacher at Marietta Middle School, attended the institute to further her understanding of physics and learn best practices when teaching it.
"I am in a unique situation because I have students who have special educational needs and so I have to be able to break things down to a very basic level," Houck says. "While I'm here, I'm the student; I'm learning about motion and force; and I'm learning how to go about teaching it. It's helpful to me because I can learn where I can break down the information even more so my students can understand it."