Seniors qualify for Moot Court national competition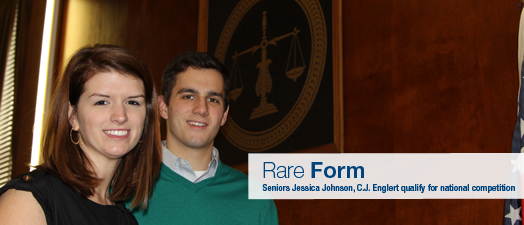 Though qualifying for the American Collegiate Moot Court Association's National Championship Tournament shocked students Jessica Johnson '14 (Johnstown, Ohio) and CJ Englert '14 (Grand Island, N.Y.), the accomplishment came as no surprise to their advisor, Dr. McKinzie Craig.
Craig, who is the Assistant Professor of Political Science, worked throughout the semester with her Political Science 394 class to prepare them for the Midwest Regional Tournament during the Nov. 23-24 weekend. Three two-person teams — Johnson and Englert; Bryan Murray '14 (Glenville, N.Y.) and Josh Counselman '14 (Wellsburg, W.Va.); and Zach Eddy '16 (Lower Salem, Ohio) and Andrea Neutzling '17 (Pomeroy, Ohio) — competed during the two-day tournament.
"When Jessie and I found out we'd be going to the National Tournament, I was shocked," Englert says. "We both knew we'd been performing well but we also knew that our competition was very strong."
The Marietta representatives were among 40 teams representing 12 different colleges and universities competing in the ACMA Moot Court Midwest Regional Tournament, which was hosted by The College of Wooster and included other schools such as Denison University, Youngstown State University, University of Central Florida and Ohio Wesleyan University.
"(My students) prepared for the (Midwest) competition in two ways," Craig says. "First, as part of Political Science 394: Moot Court II, they read Supreme Court precedent, learned about legal rules and practiced their application during oral presentation and writing assignments. Second, outside of class, they presented their oral arguments for volunteer attorneys in Marietta and in Charleston."
With the help of a Hartel Grant, which funded a mini competition in October, the students were able to compete with students from Youngstown State University and Notre Dame College.
"They presented arguments before lawyers and judges from the area and were given feedback on their advocacy," Craig says. "They also traveled to the courthouse in Charleston, W.Va., and presented arguments before attorneys from the firm of Shuman, McCuskey & Slicer… As I told them before the Midwest competition, if they performed like they did before the attorneys in Charleston, they could be ranked high enough to qualify for nationals."
In its second year at Marietta, the Moot Court Program is definitely on the rise.
"This is my second year competing and CJ and I will be the first Marietta students competing in Nationals," Johnson says. "CJ and I were so excited when we heard our team number called. We were a little in shock because it is such an honor to win with the competition in Wooster being some of the toughest in the country."
Johnson and Englert were among eight teams from the Midwest Regional to qualify for this year's National Championship Tournament, which will be held Jan. 17 and 18 at the Sandra Day O'Connor College of Law at Arizona State University.
"The program is growing on campus and I hope with CJ and I getting the opportunity to compete at nationals that more students will look into taking the class," Johnson says. "I have not only such a confidence in my oral advocacy skills now, but I have gained much better critical thinking skills and communication skills. These are skills that I will be able to carry with me for the rest of my life."
Englert, who plans to enter the U.S. Navy after graduation and hopes to work as an intelligence officer, appreciates what the Moot Court experience has offered him.
"I wanted to try Moot Court to see if I really did enjoy the law and the type of work I would have to do if I became a lawyer, and it has given me countless skills, such as the ability to build and articulate an argument," Englert says. "It has also sharpened my ability to think on my feet because, when judges are asking you questions and you only have 10 minutes to present your case, you have to be able to answer quickly and effectively in order to keep presenting your case."
The day before the National Championship Tournament takes place, Craig, who was named to the national forensics board and elected its treasurer, will attend the ACMA Executive Board meeting in Arizona.
Johnson is grateful for Dr. Craig for helping the group of students prepare to face talented teams from other colleges and universities.
"We could not have gotten where we were without Dr. Craig," Johnson says. "She is just in her second year (at Marietta) but is already making such an impact. She is someone who can take an average speaker like myself and transform her into a confident advocate. I owe her so much and want to thank her for all the great help she has given to CJ and myself."