Sigma Kappa's Goethel, Delta Tau Delta's Hendershot named Homecoming royalty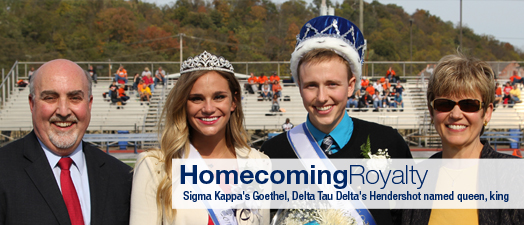 Marietta College's Brenna Goethel '13 (Nashville, Tenn.) and Vincent Hendershot '13 (Belpre, Ohio) were crowned 2012 Homecoming royalty during halftime of the Pioneers' football game against Ohio Northern on Saturday (Oct. 13).
 
The announcing of king and queen was just one of the many highlights in a weekend full of activities for students and alumni. There were special class receptions, an alumni awards ceremony, and an all-alumni tailgate at Hermann Fine Arts Center.
The weekend also included the inauguration of Marietta's 18th president, Dr. Joseph W. Bruno, who crowned the Homecoming winners with his wife, Diane.
Representing Sigma Kappa, Goethel is the daughter of Dan and Kelly Goethel. She will earn a Bachelor of Arts degree in Broadcasting with a minor in Communication Studies in May.
 
Henderson, Delta Tau Delta's nominee, is the son of Roger and Gail Hendershot. He is majoring in Spanish with minors in Biology and Health Communications.
 
The other queen candidates were:
Lauren Knight
Nominated by: Chi Omega
Hometown: Cadiz, Ohio
Parents: Tony and Mary Knight
Major: Political Science with Leadership Certificate
Marci Estock
Nominated by: Marietta College Athletic Training Student Organization
Hometown: Louisville, Ohio
Parents: Mark and Marlene Estock
Major: Athletic Training with Biology and Leadership Minors
Elizabeth Oswalt
Nominated by: Alpha Xi Delta
Hometown: Delaware, Ohio
Parents: Fred and Suzanne Oswalt        
Major: Environmental Studies
        
Claire Lauderman
Nominated by: Dorothy Webster Complex
Hometown: Vienna, W.Va.
Parents: Pamela and Gregory Lauderman
Major: Organizational Communication and Public Relations with minors in Journalism and Spanish.
Katy Fattaleh
Nominated by: Omicron Chi Theta
Hometown: Dublin, Ohio
Parents: Paul and Laura Fattaleh
Major: Theatre       
Raven Tyler
Nominated by: Charles Sumner Harrison Organization
Hometown: Randallstown, Md.
Major: Advertising & Public Relations
The other king candidates were:
Jacob Andre Taylor
Nominated by: Lambda Chi Alpha
Hometown: Newark, Ohio
Parents: Dan and Rebecca Taylor        
Major: Psychology with Biology minor
James Houck
Nominated by: Scholars Community
Hometown: Barlow, Ohio
Parents: Jim and Martha Houck
Major: Petroleum Engineering with Geology minor
Matthew Johnson
Nominated by: Alpha Sigma Phi
Hometown: Cambridge, Ohio
Parents: James and Diane Johnson        
Major: Petroleum Engineering with Geology minor and Certificate in Leadership Studies
Andrew Parenti
Nominated by: Alpha Tau Omega
Hometown: Vineland, N.J.
Major: International Business