Six Marietta students chosen as J. Luce Fellows for 2015-16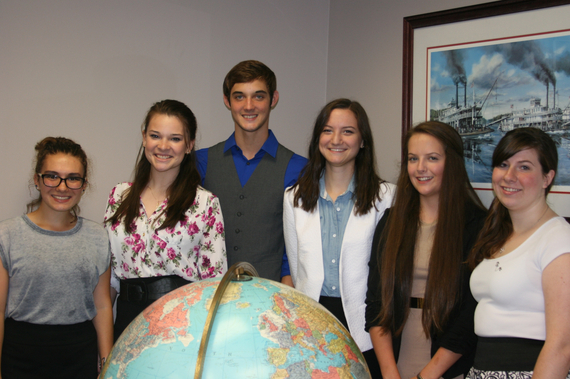 Six Marietta College students were recently named 2015-16 J. Luce Fellows by the James Jay Dudley Luce Foundation.
The students chosen were Amanda Davis '18 (Cutler, Ohio), McKenzie Fleeman '19 (Whipple, Ohio), Matthew Johnson '19 (Marietta, Ohio), Celeste Prince '18 (Hilliard, Ohio), Rylie Wahl '19 (Grove City, Ohio) and Mandee Young '18 (Poca, W.Va.).
Each student is part of Marietta's McDonough Center for Leadership and Business — which also makes them McDonough Scholars.
"This is a strong group with energy and enthusiasm," said Dr. Gama Perruci, Dean of McDonough. "I have met with these six Fellows and began to discuss the specifics of their roles and expectations."
The Fellowship Program is a calendar-year program in which approved Fellows assist the Foundation's mission of supporting young global leadership by applying their own specific training and skills, either in person or virtually, to address the challenges of the Foundation.
Foundation Fellows may elect a Foundation special project, including Orphans International Worldwide (OIWW) and The Stewardship Report (SR), or may choose to assist the Foundation itself in the real-world fields of Branding & Marketing Director, Communications, Development, Finance, Program Development, and/or Public Relations.
Similar to McKinsey e-fellows.net scholarships first offered online in Europe, the J. Luce Foundation Fellowship program is open to those based in New York City and around the world. The J. Luce Foundation Fellowship Program brings together exceptional scholars with the Foundation's special projects.