Six students experiencing similar internships through REU program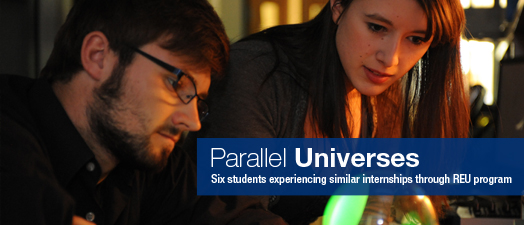 Any physics major walking past Joe Andler's room on the day he learned he had received an REU internship would have completely understood what they saw.
"I had a stupid grin on my face that I couldn't seem to lose — I did not really want to though. I called my parents, I called my brother, and I called some close friends from here and back home," says the Rickey Scholar. "Strangely, I kept finding myself jumping on my bed, for reasons that I still do not understand. I think I just felt like a kid on Christmas or something."
Andler '15 (Canal Fulton, Ohio) is one of six Marietta College students, including five from the Physics Department, who earned internships as part of the National Science Foundation's Research Experience for Undergraduates (REU). Science majors around the nation scour the Internet looking for these internships in hopes of landing the right fit, but more importantly getting one at all.
"We encourage students every year to apply for REUs. In addition to being an academically talented group of students, this group was particularly diligent about getting applications out," says Dr. Dennis Kuhl, Rickey Associate Professor of Physics. "That, combined with a little good luck, has resulted in our best year for placements in summer research internships."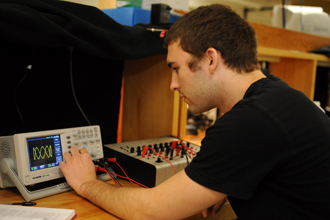 Andler is interning at the National High Magnetic Field Laboratory in Tallahassee, Fla. He is researching heat capacity, thermal conductivity and electrical resistance studies of materials used in pressure cells.
"It's less than an hour from the beach, and I will be housed somewhere on Florida State University's campus," he says. "They said it would also be a possibility that I would work with two high school students, so I am assuming that if I do, I would be a 'group leader' of some sort."
The 10-week REU program supports active research participation by undergraduate students in any of the areas of research funded by the National Science Foundation. REU projects involve students in meaningful ways in ongoing research programs or in research projects specifically designed for the REU program. 
Marietta's other participants are Laura Carpenter '14 (Pennsboro, W.Va.), Alexandra Jurgens '15 (Walnut Creek, Calif.), Nicholas Miller '15 (Creston, Ohio) and Ryan '15 (St. Clairsville, Ohio) and Vance Turnewitsch '14 (St. Clairsville, Ohio).
For months after she applied, Jurgens was concerned that she would not receive one of the scarce REU internships. In the end, though, she received her top choice — Stanford Linear Accelerator Center National Accelerator Laboratory, which is one of 10 Department of Energy Office of Science laboratories.
"Being from the Bay Area, I knew about SLAC in high school and wanted to work there someday so badly, so getting the email that I had been selected was literally a dream come true," she says. "I am working on the Linac Coherent Light Source (LCLS), a laser that produces ultrafast X-ray pulses. The pulses used by scientists to take stop-motion pictures of atoms and molecules in motion, and have applications in many fields."
Miller is working in Chicago with the Department of Energy's (DOE) Science Undergraduate Laboratory Internships (SULI) program at the Argonne National Laboratory. He is with the High Energy Physics Department and he is working on Dark Energy Survey Supernovae, which is a joint project between the DOE and the NSF to study the nature of dark matter and dark energy.
"This is a huge opportunity. I was really focused on possibly securing a position at a smaller REU as I thought I had better chances at those," he says. "The SULI program is nationwide. Once I got my letter from the DOE and then Argonne, I was all at once very excited, nervous, and anxious to learn more about my project. I didn't know much about what High Energy Physics meant other than what I looked up about it when I selected it as a preference on my application, but I would never have thought it would have lead to a cosmology like study like this one."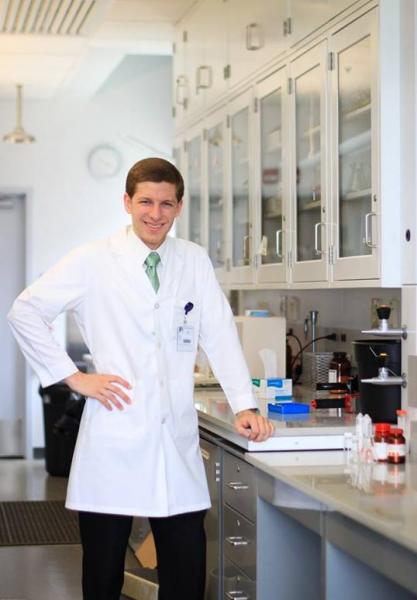 Miller believes the amount of personal lab experience he started getting at Marietta during his sophomore year has properly prepared him for this internship.
"They are not new world, state of the art experiments, but they get us thinking and really solidify the concepts and knowledge that is taught to us in the classroom," he says.
Miller knows students at other colleges and universities offer the same course, but many of them don't get the same opportunity to conduct the experiments that are provided by Marietta's faculty.
"I think my experience with experimenting and having background in lots of different studies that can apply to my work (physics, computer science and astronomy) is what gave me an edge or made me stand out," he says. "I am only a sophomore, so getting this opportunity with what little classwork I have taken must draw some sort of conclusions to the quality of classroom/educational work here at Marietta."
Jurgens took note at a recent physics conference when students from larger schools were asking questions about how to approach a faculty member for a reference.
"I never had to worry about approaching my professors, they make themselves super accessible, and I don't have to worry that they won't remember me after a class with only three other people," she says. "Beyond that, it's impossible to hide in classes that small, so it's really obvious when you don't understand a concept. Even though that can be uncomfortable, it means that the class can really focus on the things that students struggle with. It also makes you accountable for everything that you do, or don't do, which is good preparation for entering grad school or the work force. Personally, I think that the physics program at Marietta is unique and a great preparation for various careers."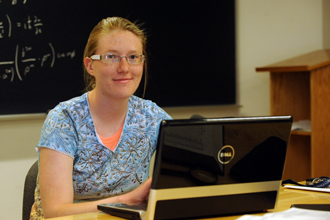 ​Carpenter, a Rickey Scholar, believes the College has helped her appreciate learning outside of her major. This should be beneficial to her as she interns in the Summer Undergraduate Research in Wind Innovation and Development program at Case Western Reserve University in Cleveland.
"I will be doing wind energy research motivated by interest in offshore wind power in the Great Lakes region. There are a number of possible projects for the summer," she says. "I could be studying turbulence sensors in turbine blades or analyzing off-shore wind and ice flow. Another couple options are structural behavior of wind turbines and integration of renewable resources into the grid."
Vance Turnewitsch, a Rickey Scholar, landed in sunny South Florida at Florida International University in Miami where he is working in the School of Computing and Information Science.
His program is focused on security projects in networks and sensors.
"In recent years, sensors have become quite important in traffic control, building monitoring, terrorist surveillance, etc.," he says. "I am working with a Ph.D. student on management of resources in virtualized systems."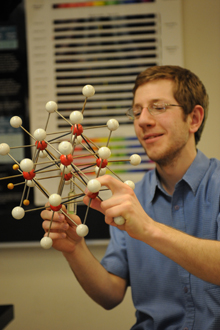 Vance is confident his undergraduate experience at Marietta has properly prepared him for this opportunity.
"I think the Marietta physics education has forced me to become a very good independent learner who can use multiple resources to solve problems," he says. "At the same time, the Marietta information systems education has prepared to work on a team; thus, I think I am prepared to work independently on my own project while being involved in the research group as a whole."
Vance's younger brother, Ryan, is Marietta's only non-Physics major to receive one of these highly sought after internships. The Biochemistry major is working at the Department of Molecular and Cellular Biochemistry at the University of Kentucky's College of Medicine.
"I am working in the laboratory of Dr. Peter Spielmann, and our project involves synthesizing an organic compound, which his lab developed and found to inhibit the metastasis of cancer cells. Once we synthesize the compound for testing, we will use laboratory mice to determine proper dosages of the compound and measure its effects on the metastasis of breast cancer cells using high performance liquid chromatography," Ryan says. "The study involves applications of organic and analytical chemistry, biochemistry, molecular biology and cellular biology." 
After being waitlisted by three other programs, Ryan was accepted by Kentucky in the early spring. This was the same time he was conducting an Honors Fellowship research project in the biochemistry lab under the mentorship of Dr. (Suzanne) George.
"That experience introduced me to independent scientific research and taught me a wealth of information that helped me both in the application process for REUs and helped to prepare me for the work in biochemistry I will be doing in my project," Ryan says. "The many science courses I've had so far at Marietta have laid the foundation I needed to be able to compete for this kind of program, and my Organic Chemistry, Introductory Cellular Biology, and Microbiology classes in particular have been indispensable to me so far as I have begun to work on this very involved project here at UK."