Spring concerts feature talent of choirs, bands at Marietta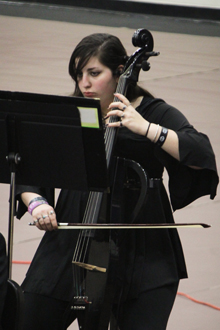 Marietta College's Department of Music is gearing up for its spring concert season, which begins with a Jazz Concert on Tuesday, April 14.
Under the direction of Marshall Kimball, Director of Bands, the Jazz Ensemble will take the stage at 7:30 p.m. in the Alma McDonough Auditorium. Joining them will be FloodStage, a group of jazz singers, who are under the direction of Dr. Daniel Monek, Professor of Music.
The Spring Choral Concert is scheduled for 7:30 p.m., Friday, April 17, at the First Congregational Church on Front Street in Marietta. The program features the Concert Choir under Monek's direction, as well as the Women's Chorus under the direction of Pamela McClain.
The three-performance run concludes with the Spring Band Concert at 7:30 p.m., Tuesday, April 21, at Fenton Court. The concert features the Symphonic Band and the Wind Ensemble with Kimball as conductor. This year's concert theme is "It's A Small World: World Cultures."