Student Body President welcomes the Class of 2018 to campus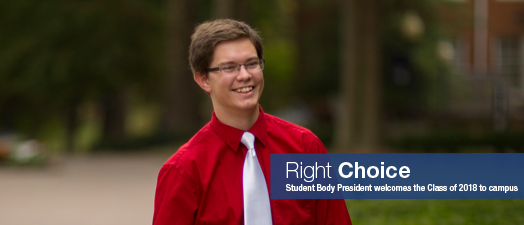 Hey! How's it going? I'm fine, thanks for asking. Are you feeling a little bit nervous about coming to Marietta College?
I remember I worried a lot about making both the academic and social transition to college. I was never able to track down a roadmap, or secret formula, or magic pill that ensured success and happiness. And no, I'm not going to provide that to you today, nobody is going to provide that upon your arrival, because that sort of thing doesn't exist.
What I do have to offer is a bit of advice. Your transition to college is an individual process that will function better if you work together with your fellow Pioneers. We are a team here at Marietta College. If you're lost, ask for directions. That goes for if you are searching for the dining hall, looking for your first class, confused about when or where a practice or a meeting is, or if you need major career and/or academic advice.
Marietta College is a place anyone can be successful. You just have to work hard and utilize the resources available to you on our illustrious campus. If you don't know whom to ask, ask your student body president, aka the Governor of Hydration (yes, that's me, I'll explain later). If you feel like nobody has your back remember that I do.
You're an adult now, so brace yourselves for tons of new experiences and prepare to take advantage of dozens of opportunities, but do so in an adult-like fashion. I showed up and presented myself as an immature teenager and oblivious to the world around me. I thought college was a place you went to take a few classes, make a few friends, receive a piece of paper (degree), and get into the real world. WRONG.
This is the real world. You will be held accountable for your actions, both good and bad. Remember, you represent yourself, your family, your hometown, your Greek organization, your sports team, and most importantly, Marietta College and the Marietta community anywhere and everywhere you go at all times. I understand growing up is not an overnight process, I'm not close to being finished myself. Just remember that words have meaning, there is no such thing as a "private" social media account, and when you're on a campus of 1,400 secrets don't stay secret for very long (especially if they are juicy and entertaining). Be yourself, but be better than you were the day before each and every day.
There is no back of the classroom at Marietta College. Everyone stands out in his or her own beautiful way and that is what makes OUR College such a special place. You cannot come to Marietta College and expect to lay in your residence hall, play video games, party every day, and make it here. You just won't. You're going to have tons of fun here, I guarantee it; but you have to be committed to your academics, prioritize, be organized, seek help when you need it, be devoted to your institution, and be dedicated to your own personal success as well as the success of all those around you.
Be professional at all times, but enjoy every moment of your four years at MC. There are lots of reasons to be excited, so be excited! After all, if you're not a Pio then you're wrong, so you have already made one correct decision. We are glad you chose us, and we are confident you won't disappoint us. The bar is set high, now go surpass it. The Class of 2018 will do great things at MC and beyond, I am sure of it. Just continue to seek out advice, ask directions when you are lost, act like an adult, work hard, be responsible and respectful, stand out in your own way, and be committed to our team, to our family, to #PioNation. Welcome to the family, buckle up, it's going to be one heck of a ride!