Student organization changes name to Pioneer Activities Council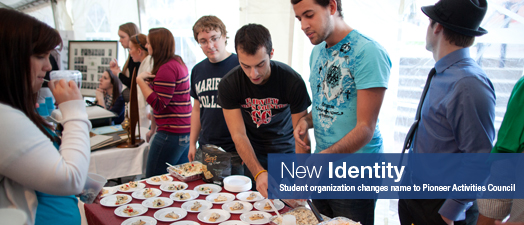 Say what? Pioneer Activities Council?
Never heard of it.
Well, you better get used to it because the Pioneer Activities Council — or PAC — is what is replacing the College Union Board (CUB) as Marietta College's student-run organization that plans and runs countless event on campus.
And everyone involved says the organization is planning some big things this year.
Ellen Wehrman, Associate Dean of Students, says the name change comes after a year of reflecting on the purpose and vision for the group.
"College Union Board didn't tell you much about what they did on a regular basis, especially since our events take place all over campus and not in one central union building," she says. "The name Pioneer Activities Council demonstrates the three basic tenets of the organization: Pioneer — building school spirit; Activities — planning and executing campus events; and Council — representing the campus needs and wants as a whole voice. We are eager to seek out new members this year who want to 'join the PAC' and help carry out this exciting work on campus."
Just like CUB, PAC members will plan off-campus trips to places like Easton Town Center in Columbus and bring comedians and bands to perform in The Gathering Place — all free of charge for students.
PAC is already heavily involved in the Welcome Week activities that take place Aug. 26-31.
While the name CUB was synonymous with student-organized activities on campus, the organization felt the time was right to rebrand itself.
"We discussed a lot of new and different names when we were working on revamping CUB but we settled on PAC because it was short, sweet and let students know exactly who we are and what we do on campus," says Summer Shelton '14. "It was important to us to change the name because we are working on making more of an impact and having more of a presence on campus and wanted a new name to go along with the new face of PAC we want to create."
Laura Keating '15 (Buckhannon, W.Va.) says the biggest reason for renaming the organization was so they could rebuild it from the ground up.
"In the past, CUB had been suffering from poor leadership and nothing had been updated for years. Last year, CUB President Mallory Haynes '13, along with our new adviser Ellen Wehrman, poured themselves into improving it," Keating says. "Mallory wanted to change everything — from the structure and constitution to the reputation we had on campus. Ultimately we decided to change the name as well to show everyone that the organization was new and improved.
She also says the use of College Union Board was misleading since Marietta does not technically have a student union.
"So, we decided on Pioneer Activities Council. As the new executive director, I've been training this year's team for the past couple days." Keating says. "They are all dedicated, passionate students and I'm sincerely excited to work with them. I know PAC is going to bring our students some great memories this year."
PAC will release a schedule of events for the fall soon.