Student Philanthrophy Day celebrated on Feb. 21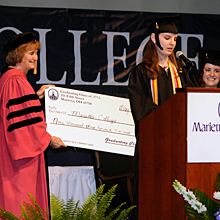 On Thursday, Feb. 21, Marietta College will celebrate Student Philanthropy Day as part of SAA week activities. In an effort to inform current students and future alumni about the importance of philanthropy on the campus of Marietta College, the Student Alumni Association is partnering with the Senior Challenge and Student Philanthropy committee for this special day.
"We hope to build awareness of and promote a spirit of philanthropy among all students across the Marietta College campus," said Megan Ray '14 (Canal Winchester, Ohio), Student Philanthropy Intern with The Marietta Fund Office.
Senior Challenge, a tradition at Marietta College, was established in 1997 as a way to educate seniors on the importance of philanthropy and allow them an opportunity to make their first gift as they prepare to join The Long Blue Line.
Activities planned for the week to promote philanthropy include:
Philanthropy Puzzle Raffle — students check your mailbox for details
Philanthropy Day Tags — displayed on Thursday, Feb. 21  throughout campus  
Gilman Theme Night  — Wednesday, Feb. 20
Other activities planned for SAA week include:
Spirit Photo Contest
Long Blue Line of Desserts at Gilman
Pioneer Pride Day — Learning about The Long Blue Line
Senior Dinner with the Board of Trustees
The week's activities will culminate with another tradition for Seniors as they take part in having dinner with the Board of Trustees on Thursday evening. This is a wonderful opportunity for graduating seniors to network and visit with President Joe Bruno and the Trustees of Marietta College.
In addition to informing students about the importance of philanthropy, this day is especially significant for members of the 2013 Senior Class. They will be asked to take part in the Senior Challenge Campaign, a long-standing tradition at Marietta College. The theme for the Senior Challenge program is "Follow The Long Blue Line. The committee is distributing pledge forms to encourage all seniors to make their first gift to Marietta College on Philanthropy Day. These donations will be included in the 2013 senior class gift, which will be presented to President Bruno during Commencement exercises in May.
Everyone is encouraged to pledge their support on Philanthropy Day and those who make a gift will receive a special blue and white "I support the Marietta Fund" button. In addition, all seniors who participate in the Senior Challenge program with a gift of at least $20.13 will also receive a gold Senior Challenge lapel pin to wear in recognition of their support.
Committee members will be available to answer questions and take donations on Wednesday, Feb. 20 during the Gilman Theme Night dinner. To get more information about Philanthropy Day or the Senior Challenge campaign, please visit the website at http://www.marietta.edu/Give/senior_challenge.html or check out the Pio Pig Facebook page and Twitter @pio_pig.