Student Senate officers elected for 2013-14 academic year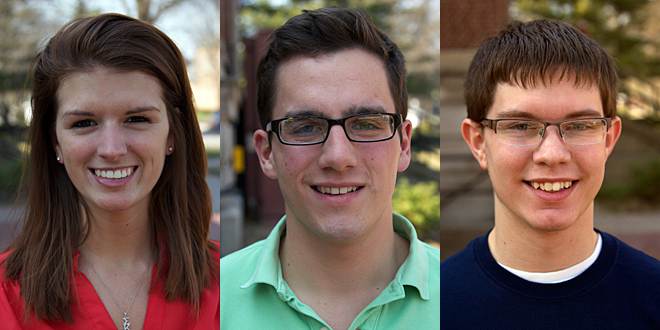 For the first time in five years, Marietta College's Student Senate will be not be made up of students only from Ohio.
Jessica Johnson '14 (Johnstown, Ohio) will take over for Connor Walters '13 (Bay Village, Ohio) as Student Senate President.
Johnson will be joined by CJ Englert '14 (Grand Island, N.Y.) as Vice President and Taylor Myers '15 (Beallsville, Ohio) as Treasurer. Englert replaces Dan Hartman '13 (Cincinnati, Ohio) and Myers takes over for Caleb Muller '13 (Bexley, Ohio).
"First, I must say this is an immense honor. I want to thank everyone for their support and coming out to vote this past week. CJ, Taylor, and I are all so appreciative for the trust that all of you have bestowed upon us," Johnson said. "This past year has been a great year for new progress and new changes to Marietta College, thanks to the wonderful leadership of Connor Walters, Dan Hartman, Caleb Muller and (parliamentarian) Vincent Hendershot '13 (Belpre, Ohio)."
Johnson is excited to start work for the 2013-14 academic year.
"When I set foot on campus three years ago, I knew Marietta was the right fit for me. It was a campus where you could be anyone you wanted to be, but more importantly create change if you put your mind to it," she said. "I am ready to make that change. With the help of a great new executive board, soon to be new council, and you the students, next year is gearing up to be one for the records."