Student Senate ready to work with fellow Pioneers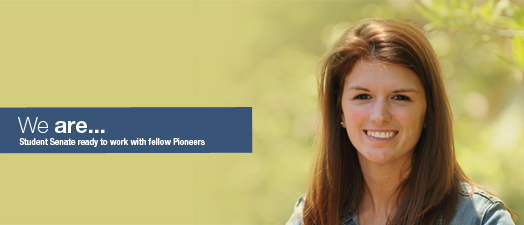 As the fall semester begins to ring in, Marietta College's Student Senate is already focusing in on what goals it would like to achieve this year.
After a great last year, that included a new president and a new mantra of "We are MC," the 2013-14 Senate is ready to channel that school pride and extend it into the future.
As a Senate this year, we are hoping to really put a face to a name. We want students to recognize us as a Senate, feeling open to voicing concerns and opinions. By continuing to do outreach events, where senators get to speak one-on-one with students to hear their concerns, we hope to gain a better grasp on what issues are, and how to take them forward.
By inviting administrators and department chairs to meet with the Senate, we aspire to educate ourselves more with the updates Marietta is currently seeing, and what it might be seeing in the near future. Senate wishes to be a part of the future planning for the campus, and by establishing a good relationship with administrators, we hope to know what the future will hold as to the makeup of Marietta College. 
As a diverse group of students, we want to get out and work with student organizations by helping them to promote or advertise, by participating in events, and support them in any other way possible. With this we hope to encourage more student involvement. These organizations are a part of what makes the Marietta experience so great, and we hope we can help them grow.
Finally, as a Senate we want to thank the student body for entrusting us with the ability to represent them. I am excited to work with a magnificent Senate, and an amazing Executive Board. The Executive Board is made of dedicated students ready to dive into their positions and the committees they run, to create new changes the campus has yet to see.     
Overall, Senate's main goal is to live up to the fact; we are the elected body of the students of Marietta College. We want to keep communication up between the students and the school because this fuels the fun atmosphere at Marietta. It also reminds everyone that it is always a great day to be a Pio!
Jessica Johnson '14 of Johnstown, Ohio, is majoring in Political Science and is the Student Senate President for 2013-14.