Students, College remember South Dakota tribe by donating mattresses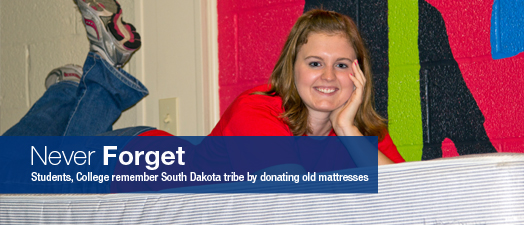 If you want to experience Old West history and American Indian culture, there may not be a better location than South Dakota.
A dozen or so Marietta College students have made the 20-something hour drive as part of an Alternative Spring Break the past two years, and they volunteered with RE-MEMBER to work with the Oglala Lakota Indian communities.
While there is some sightseeing, the trip each year has opened the eyes of the participants to the plight faced by many of the people who live on the reservation.
Rachel Hartong '14 (Mount Vernon, Ohio) was so impacted by the experience that she wanted to keep helping after she returned to Marietta — and she's doing just that.
With the assistance of Bruce Peterson, Dean of Students, Dr. Bob Pastoor, Vice President for Student Life, and Linda See, Assistant to the Vice President for Student Life, Hartong has spearheaded a project this summer that will provide almost 100 used mattresses and nearly twice as many sheets and blankets.
​"When we visited the reservation this spring, we learned that bunk beds are one of RE-MEMBER's biggest projects. The families on the reservation are often cramming a lot of people into one trailer home and space for bedding becomes a big issue," she says. "Throughout the week our group constructed several bunk beds and at the end of the week, the RE-MEMBER leadership made us aware of their struggles to obtain mattresses. With that in mind, we knew that we wanted to take that request to the College."
Each summer, Marietta College replaces approximately 100 mattresses in the residence halls. On July 9, the outdated mattresses and 14 boxes of blankets and sheets were loaded onto a truck and their journey to South Dakota began. Marietta College has hired ABF Trucking Co. to make the delivery.
While they have been used on campus for years, Hartong said all of them should be an upgrade over what many families are currently using on the reservation.
"Marietta College is really pleased to be able work with RE-MEMBER by providing our mattresses and the bedding that was donated by our students, faculty, and staff at the end of the year," Pastoor says. "This outreach is a continuation of our work with the Oglala Lakota people that has allowed our students to work on the Pine Ridge Reservation in South Dakota over the past two years during Spring Break. Our students have found this social justice work so very meaningful and are happy to continue working with RE-MEMBER." 
Guided by the aspirations of the Oglala Lakota Indian communities served by RE-MEMBER the organization seeks to improve the quality of reservation life through relationships, shared resources and volunteer services. Through site visits and cultural immersion, the organization continues to develop a growing circle of advocates standing in solidarity with the American Indian people of Pine Ridge, S.D.
RE-MEMBER's four volunteer projects are bunk beds for children, trailer skirting, outhouse construction and making homes livable. Hartong and the other spring breakers spent most of their time in March making beds and skirting trailers.
Hartong says her desire to do this type of community service is somewhat of a new passion.
"Through recent experiences I have begun to understand the true key to service, which is that it should be a continued relationship. So many people think that a one-time activity or donation can solve an issue. Too often people just want to throw some money at an issue for it to be solved," she says. "Unfortunately, I don't think that any students in our group can afford to travel back to South Dakota every couple weeks or months, but a blanket drive is something we can do from Marietta, and with the amount of material we've gathered, it should go a long way."
Due to the overwhelming amount of donations made by Marietta's students and employees in the final weeks of the spring semester, also showed Hartong that making a difference through volunteerism is part of the fabric at the College.
"I was extremely grateful and blown away by the amount of bedding donated during the two-week drive, and donations continued to arrive a couple weeks into the summer," Hartong says. "However, I volunteered myself to do all of the laundry during my free time after work this summer. I had no idea how long that would take. Based on the number of dryer sheets I bought before starting this endeavor, I have done about 120 loads of laundry. But that has all been completed now and I know that will be a big relief for RE-MEMBER. The only task left is to get the items to South Dakota. I wish timing could have worked out for another group road trip to the reservation, however that was not possible. Thankfully, the transportation has been taken care of and the mattresses and bedding are on their way."