Students embark on mission in Nicaragua during Winter Break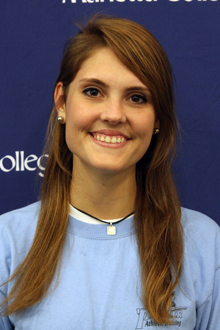 For months leading up to Winter Break, Whitnie Pinkston '15 (Parkersburg, W.Va.) tried to save and raise as much money as she could to afford her journey south for 10 days.
While many college students look forward to getting away to warmer climates to bask on sandy beaches and lounge with friends and family during the annual break, Pinkston had one goal in mind: to make a difference in the lives of people she had never met and would likely never meet again.
Pinkston was among a group of 12 students and one advisor to travel to Nicaragua for 10 days for the International Alternative Winter Break program, which was established two years ago through the Office of Civic Engagement. The group partnered with Bridges to Community, a "nonprofit community development organization that takes volunteers to developing countries to work, learn and reflect," according to the program's website.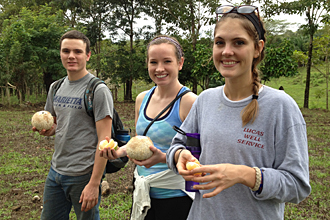 Marietta first became connected with the nonprofit through the OCE's former director Arielle Jennings. This year, current OCE director Maribeth Saleem-Tanner, plus two Bridges to Community staff, chaperoned the group to the village of Tadazna in Nicaragua.  
"I had never been out of the country before, so there was a learning process I went through before actually going," Pinkston says. "Some of the students had been a part of a service project like this before, but they didn't really tell me what to expect. That was good because instead of expecting certain things, I just took it all in."
Pinkston says winter is typically a drier season in Nicaragua, but that wasn't the case for her group.
"It rained a lot so there was a lot of mud," Pinkston says. "Luckily they had boots for us to wear. On the first day, we went to a man's farm to work and had to walk a long way. It was like climbing a mud mountain."
Despite the mud, Pinkston says there were many good surprises during the trip.
"The coffee was so amazing," she says. "I didn't even need sugar."
During the 10-day service project, the group built stoves designed to exhaust smoke away from people trying to cook, built latrines to improve sanitation, and worked at their host family's farm.
"Overall, the goals of the trip include giving students the opportunity to learn firsthand about Nicaragua through interaction with people, culture and communities. The International Alternative Winter Break is very much about Marietta College's core value of 'global perspective, where social interaction, work, and exchange occur across geographical, cultural and linguistic boundaries,'" Saleem-Tanner says. "I think this particular trip was especially rich in terms of the variety of experiences within such a short trip. Over the course of nine days, we had the opportunity to see and learn about the history and culture of several very different parts of the country--from the capital of Managua, to the northern city of Siuna, to the rural community of Tadazna, to the developed tourism center of Granada."
In addition to learning about the Nicaraguan history and culture, and volunteering to help improve various aspects of the Tadazna community, the Marietta College students also spent time every evening reflecting on the events of the day. In addition to discovering more about each other's personal backgrounds, the group also learned about the tragic earthquake that hit Managua, Nicaragua in the 1970s, which changed the city that was once as contemporary as a bustling city in the U.S.
"The earthquake took them back 30 years. There wasn't any access to supplies to rebuild the city, so they rebuilt it out of the rubble," Pinkston says. "What struck me most about Siuna and the village we worked in was that everyone was so grateful and happy. They had almost nothing, but they smiled all the time and they were a very close knit community."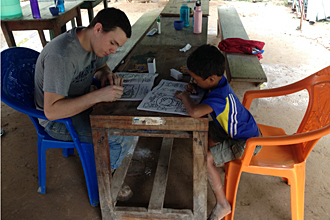 Saleem-Tanner says having time to reflect on what they were doing and learning is one of the key focuses of OCE.
"Reflection is also about students growing as people and as leaders," Saleem-Tanner says. "Everyone goes into an experience like this with hopes, fears, expectations and ideas about what it will be like. Reflection is our chance to integrate what we experience into our knowledge base, to sort of reconcile what we thought we knew with what we're actually seeing, hearing, feeling and learning, and into our understanding of the world and of ourselves."
Pinkston is already planning to participate in next year's International Alternative Winter Break in the Dominican Republic.
"This experience made me so calm and gave me a much different perspective on life, while at the same time making me understand exactly why I want to go into the medical field," Pinkston says. "I wouldn't say that I 'found myself' there, but I definitely understand myself a little better."
The students spent a lot of time working with the host family on their farm. Pinkston had a great deal of admiration for the family's patriarch, who was passionate about building up his community.
Before leaving their host family's home, the students spent a night reflecting on a student who was supposed to participate in the program: Caitlin Yager '16, who died Dec. 26, 2013 as the result of a two-car accident.
"We were the first students to visit this community, but we won't be the last. A plaque was made to honor Caitlin and we knew, because she was such a great baker, that we wanted to leave it at one of the stoves we fixed. But because our host family got to hear stories about Caitlin and got to know what she was like, it seemed fitting to leave it in their kitchen. That way, when future students come, they will be able to tell those groups about her," Pinkston says.
The wooden plaque, written in both English and Spanish, states: "The recipe for a good life is to make everything with love."