Students, employees spend first Saturday doing community service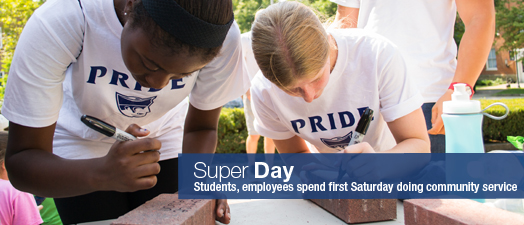 As members of the Class of 2018 began reassembling back on campus, a sense of accomplishment and pride began to fill the air.
Dozens of students had just finished two hours of community service at seven different locations in Marietta, Belpre and Parkersburg, W.Va., and now they were back for the final touches of the first Super Saturday of Service — a new patio dedicated to the class outside of the McDonough Center for Leadership and Business.
"Community service is such a meaningful way to build relationships and get to know a community, which is why we wanted our newest class of students to get into the community as early as they did," says Cristie Thomas, Civic Engagement Coordinator. "We had an amazing morning, working with seven different local nonprofit agencies, which ended by finishing an on-campus brick patio. As a Pioneer, it is important to always remember you can give back in a variety of ways, be it in the community or right here on campus."
Putting the final brick into the patio was Student Body President Taylor Myers '15 (Beallsville, Ohio).
"With service being one of Marietta's Seven Core Values, and an essential component of the Marietta College experience, it was great to see so many students participating in the Class of 2018 Service Project," Myers says. "I personally felt honored to lay the final brick to complete the new brick patio. What a Pio-tastic day for all!"
The students volunteered for two hours on Saturday, Aug. 30, at Belpre in Bloom, Marietta in Bloom, Consumer Credit Counseling, Marietta Cemeteries Coming Alive, Ely Chapman Education Foundation, Boys & Girls Club of Parkersburg and Washington County Habitat for Humanity.
Responsibilities ranged from painting fire hydrants and picking up trash to planting flowers and cleaning up a cemetery. Thomas says the Office of Civic Engagement will organize other Saturday of Service events throughout the academic year.
Dr. Bob Pastoor, Vice President for Student Life, led a group of students who volunteered at the Parkersburg Boys and Girls Club.
"We strive to educate our students in the educational benefit of engaging in service while a student at Marietta College but also the importance of giving back to their communities after graduation," Pastoor says. "To develop a real passion for reaching out to individuals and organizations who depend so much on volunteers."
Charlee Ottersberg '15 (Arvada, Colo.) headed up a group that worked at Consumer Credit Counseling in Parkersburg, W.Va.
"We helped to paint a wall, plant flowers, and put together display boards," she says. "It was great to help a nonprofit that has a mission of getting people back on their feet."
Dr. Gama Perruci, Dean of the McDonough Center for Leadership and Business, has watched Marietta's students for more than a decade provide thousands of hours of community service. But he was still impressed with what he witnessed Saturday.
"I think it's very inspiring to see the students getting up early in the morning on Saturday to serve the community," Perruci says. "They are investing in the future of our community. It is a mutual relationship. The community is also investing in their future as leaders. After they graduate, they will take this servant leadership model to other communities and pay forward."