Students enjoy unexpected day off from class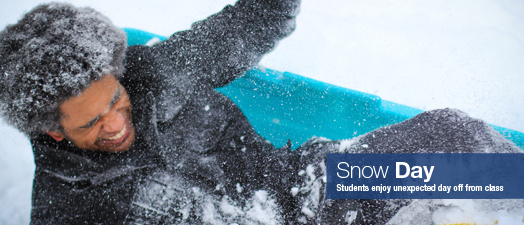 Ask any student and they'll tell you a snow day never happens at Marietta College. On Monday, Feb. 3, they got a special treat and first "snow day" in five years.
A majority of Marietta's nearly 1,400 students took full advantage of the unexpected break from class and the 8 inches of snow that blanketed the campus and much of the Mid-Ohio Valley overnight.
That is all Marietta's students needed to go sledding down the hill beside Mills Hall, have a snowball fight or two, and build one gigantic snowman on Monday. It was almost a perfect day to get outside as the heavy and wet snow covered almost everything, but it wasn't too cold to get outside and act like a kid for a few hours.
"I found the snow day to be an amazing stress reliever as I was able to set the books aside for a day and relive some childhood fun," says Emily Drabeck '17 (Washington, Pa.). "I had a great time sledding on the hill by Harrison and Mills for the first time with my sorority sister Eileen Walsh! At the hill I was able to meet new people and learned that creativity and sledding in college definitely go hand in hand."
Eileen Walsh '16 (Marlton, N.J.) was into throwing snowballs at friends.
"There were so many cool snowmen to see all over campus! I can tell you that everyone I saw was enjoying today because they all had smiles on their faces," Walsh says. "The day was so special to me; I know I'll remember it when I look back on my time here."
Michael Phillips '14 (Harrison, Ohio) made sure to get a little extra sleep and missing a math quiz was considered another bonus.
"I had a nice brunch in Gilman with a few friends. Then I made a snowman utilizing a broken umbrella with Nate Colborn '16 (Grove City, Ohio), Connor Matthews '15 (Marietta, Ohio), Kendall Rebusmen '15 (Hannacroix, N.Y.), Tyler Blum '14 (Tampa, Fla.) and Emily Burnham," Phillips says. "After that it was time to watch Frozen and get ready to work out in the DBRC before dinner. All in all, a pretty great snow day."
Thanks to Ryan Turnewitsch '15 (St. Clairsville, Ohio) for capturing hundreds of photos of the student fun across campus. For a few hours Monday, Turnewitsch trekked through the snow to make sure we would have proof of the fun.
"Campus was alive today with abundant smiles, sleds and snowmen," he says. "As I walked from the Fourth Street field, to the Kremer Amphitheatre, to Mills hill and the Harrison green, to the freshmen quad, to the soccer fields, there were groups of students EVERYWHERE laughing, having snowball fights, building snow creations, and loving every minute of the day. Being able to capture so much joy in my photos was special. Today will certainly be a much-remembered day for so many of us here at the College. Many thanks to Provost (Karyn) Sproles and other senior college officials for granting Marietta's students the day to enjoy the beauty of winter."
Turnewitsch's photos were a huge hit on Facebook and had many alumni reminiscing about their snow experiences at Marietta College.
Jennifer Carpenter '98 made an interesting observation while perusing the photos.
"I don't understand... why are those kids using sleds to slide down the hill? I thought the only approved MC sleds were Gilman trays," she posted on Facebook.
Marietta's current student body has never had the luxury of Gilman trays as the dining hall removed them in the spring of 2010. That didn't stop them from relishing in the gift that Mother Nature provided.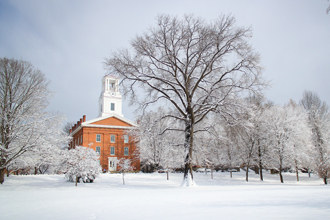 Rachel Shoop '15 (Parkersburg, W.Va.) fell back to sleep after the College first notified the campus around 6 a.m. of a two-hour delay. The complete cancellation of classes came a few hours later and that's when she joined Angela Shrader '15 (Parkersburg, W.Va.) and Syreeta Osborne '16 (Middletown, Ohio) at the hill next to Mills Hall.
"A few other people showed up to Mills at the same as us, with only plastic bags as sleds. You might not think it but plastic bags aren't half bad sleds," Shoop says. "We all got to work paving sledding tracks and tumbling down through the snow as we did so. As more people joined in the tracks became more slick and faster. We had a few races, but everyone was in great spirits."
It doesn't mean Shoop ignored her studies all day.
"Don't think that the weather kept me out of the lab today, though," she says. "I know we won't have another day like today in a while and schoolwork still needs to be finished. If nothing else, Rickey is a great place to warm up from outside."
Everything was back to normal on Tuesday, but the memories from a rare snow day will likely last a lifetime for many who participated in the snowy activities.
"The campus today was absolutely beautiful and picturesque, it reminded me of the many reasons why I love Marietta College," Drabeck says.
The covering of snow was a beautiful sight, but campus was made passable thanks to the hard work of the College's Physical Plant. Director Fred Smith says it is an "all hands on deck" approach that allows them to get the work done.
"The real work horses are the Physical Plant staff and especially the Grounds Maintenance crew led by Mark Theobald and the Trades Staff who pitch in to help out," Smith says. " Much of the snow removal is shoveling by hand our ADA ramps, steps and building entrances. It is hard and tiring work and, when we get heavy or deep snows, it is continuous for eight to 12 hours."
Smith also says they received a huge lift from student workers.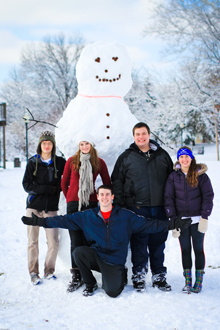 ​"I had the pleasure of working with student Daryl Dewindt '16 (Lilburn, Ga.)," Smith says. "I'll have to admit that he could effortlessly lift and throw three times as much snow as me as we shoveled our way around Lambda Chi Alpha, Child Development and International Scholar houses. We did get some boos when we jokingly told the sledders on Mills Hill that we were told to shovel all the snow off the hill."
A few members of Delta Tau Delta also pitched in and shoveled around Hermann, Fayerweather, Gilman, McDonough, Thomas and the President's Home, according to Blake Szkoda '16 (East Hampton, Conn.).
After some rest and catching up on some assignments, the Scholars Community agreed to meet at Mills for some sledding in the afternoon. Julianne Gmys '15 (Pittsburgh, Pa.) says it was a perfect day.
"The snow day was a great opportunity to blow off some steam and spend some time outside," she says. "The weather almost felt like spring compared to the temperatures we faced in the last weeks."
For Arizona native Hannah Ratliff '14 (Tucson, Ariz.), the snow day provided her an opportunity to make her first snowman and get into her first snowball fight.
"It was an exciting day," she says. "I also got to make my first snow angel."
Monday was one of "those" days that the current Marietta students may never forget.
"Everybody was so carefree today — it's something I've never felt across the entire campus," Shoop says. "Every person I saw today looked around our campus with a smile and a bit of energy. I even have a friend who was sick today, and she couldn't keep from enjoying a walk in the snow."
Created with flickr slideshow.