Students help Campus Martius with display celebrating city's 225th anniversary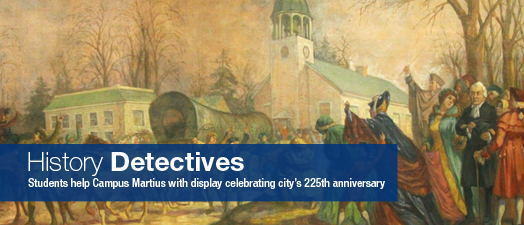 Matthew Cale '13 (Marietta, Ohio) has heard about Marietta history almost all of his life.
If you had asked him a year ago to imagine what Marietta was "actually" like 225 years ago, he probably would have offered a reasonable answer.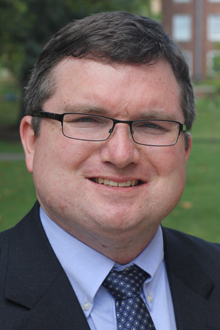 Now that he has worked with Dr. Andrew Wehrman and two other students — Katherine Tedesco '14 (Upper Arlington, Ohio) and Hannah Ratliff '14 (Tucson, Ariz.) — on a new exhibit at Campus Martius Museum celebrating the 225th anniversary of the founding of the city, Cale has an entirely new perspective.
"I found the project to be challenging. Our job was to come up with information on the depicted scenes in the murals. The particular murals that we were trying to find information on were interesting," says Cale, referring to "Imagining Marietta," which opened May 16 and will be on display for the next three years.
"They showed not the most historically accurate depiction of Marietta's early years but rather a romanticized view," Cale says. "After some research on the different events represented in the murals, we were able to come up with captions that provided both historical insight and an understanding of flaws in interpretation. Overall, I believe the end result was something that can be understood and appreciated by all who see them."
Wehrman was contacted in the fall by Campus Martius program director Glenna Hoff '74 and asked to serve as a guest curator for the exhibit. The centerpiece of the exhibit was to be 12 restored Depression-era murals, which previously hung in Marietta's city hall. The murals, painted by William Mark Young, depict 12 events from the early history of Marietta. Young, an artist living in Cleveland, Ohio, was commissioned to paint the murals for the Marietta's 1937 sesquicentennial celebration.
"I was immediately interested but wanted to involve history students in this opportunity," Wehrman says. "The history department at Marietta College has been working to create partnerships with local museums, historic sites, and historical societies to provide opportunities for students to experience public history, history beyond the classroom."
The students were able to use the exhibit as their final project in Wehrman's "Founding a New Nation" course during the spring semester.
Ratliff says she got involved because, as a third generation Marietta College student, she has a vested interest in Marietta history.
"The time periods we looked at with the murals were particularly interesting for me because of how they dovetailed in many ways with what I was learning in Dr. Wehrman's 'Founding a New Nation' class," Ratliff says. "In fact, many times his lectures would point me in the right direction in my Campus Martius research. I also enjoyed the opportunity to spend time in Special Collections, since we have so many resources from early Marietta."
Tedesco was honored to be asked to participate in the project.
"Work with the murals was a unique opportunity to learn about an artist's perception of Marietta's history," Tedesco says. "Matt and Hannah worked masterfully on the captions, and my main contribution was a pamphlet to accompany guests whilst viewing the exhibit. … I learned a great deal about museum display from this experience."
Hoff, Education/Program Director of Campus Martius and Ohio River Museum, says the exhibit is an opportunity for people to view an artist's 20th Century interpretation of history.
"I hope the mural exhibit gives people the inspiration to investigate more of our local and national history and the direct connection between the two," she says. "The murals will serve as a catalyst in sparking renewed interest in our history, bringing it back to a prominent position in education and local and state interest."
She says the partnership with Marietta College allowed the museum to get the exhibit in place much quicker than they expected.
"Their research in connecting the murals with our early history and the artist's concept of the early events is invaluable," she says. "We appreciate their time and efforts."
Wehrman says he wanted to emphasize that history is an imaginative process, and that led to the name of the exhibit.
"In these murals, the artist imagined a history of Marietta. Some of the paintings are complete fabrications, as in the mural of the mound builders, while others were more easily verifiable," he says. "I had the students analyze and interpret each of the murals with this in mind. I wanted them to research both the actual events Young depicted and the way in which Young imagined or took license with them. I hope the visitors to the museum will take a critical look at these murals and think about the way in which we imagine our communities in the past, present and future."