Students learn about Lakota people during Alternative Spring Break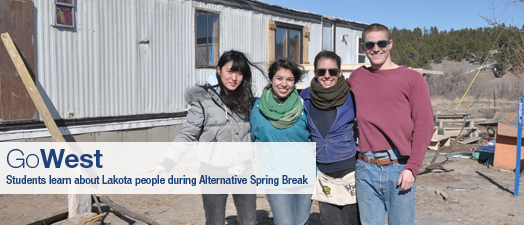 Ari Ross '13 (Cleveland, Ohio) has heard about some of the wild stories associated with spring break in college.
But it wasn't until this year, her final one at Marietta College, that she actually decided to go on one. Instead of Florida or Mexico, Ross joined a dozen students and two College administrators for a 30-hour van ride across the country to South Dakota during spring break.
"I usually stay at school and work so, since it was my senior year, I wanted to get out and do something I've never done before but at the same time give back," Ross says. "I could have gone to the beach but I realized I could do that after graduation."
Alternative Spring Breaks are not new, but still a smaller number of students choose "working" trips to locations like New Orleans, Michigan or South Dakota. Marietta has been sponsoring such trips on and off for more than a decade.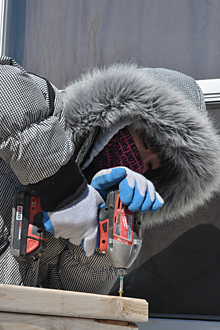 ​The College's Office of Civic Engagement has been the leading force behind the trips in recent years. Arielle Jennings, Director of Civic Engagement, says the trip to the Pine Ridge Native American Reservation helps the student engage in cultural immersion and service learning during a week that has been hyped as a chance to party at the beach.
"This trip goes well beyond service and engages us in a new culture and way of living," she says. "We learn from elders in the community about the traditions that are practiced by the Lakota people. By the end of the trip, we are deeply connected to the land, the people, and our new insight into a different way of living."
Brett Notarius '14 (East Amherst, N.Y.) says the experience resonated with him and gave him a new appreciation for Native Americans.
"The educational opportunities were abundant. Yes, there many times where we had elders from the community come to speak to us. These certainly were huge learning chances for the group and myself," Notarius says. "However, there were also many less defined opportunities that came from simple observations of culture, lifestyle, and saddening oppression within the reservation. I now have a much clearer and well rounded understand of Native Americans and unfortunately the horrible actions of oppression that our country still allows to take place today. The trip undeniably opened my eyes and shook my world up."
For Ross the trip allowed her to reconnect with her Native American roots.
"I can't say that my perception of Native Americans has changed because I was raised in the more modern culture of the Mohawk tribe, to which my paternal family belongs," she says. "I will say that I was not aware of all of all of the tension between the Lakota people and the military/government because of the reservations. My family never lived on a reservation so I had no idea what that culture within itself was like. It actually saddens me that the government has made them so dependent on government assistance."
A number of students say they enjoyed the morning ritual, "Wisdom with the Elders," following breakfast. It consisted of a reading and speech about the Lakota culture.
"Also in the evenings there were multiple speakers who were Lakota who came to share information with us such as their version of 'The Creation Story' as well as teach us about important Native American issues," Ross says.
The other students who made the trip were Madison Moreno '15 (Rochester, Mich.), Alexis Callaway '16 (Portage, Mich.), Rachel Hartong '14 (Mount Vernon, Ohio), Chen Xi Jiang '16 (Zhejiang Province, China), TongZhou Luo '15 (Beijing, China), Emily Mason '16 (Logan, Ohio), Allison Sells '15 (Fleming, Ohio), Meili Wang '16 (Sichuan Province, China), Nan Zhao '15 (Beijing, China) and Andrew Knizner '16 (Arlington, Va.).
Working with an organization called Re-Member, the Marietta contingent spent their days fixing up local homes and at night meeting with Lakota elders learning about the history of the Lakota people and social justice issues they are facing today. They also visited Wounded Knee, the Badlands, Mount Rushmore, the Black Hills and Crazy Horse.
The Pine Ridge Reservation is the eighth largest in the U.S. and is among one of the nation's most impoverished communities.
Dr. Bob Pastoor, Vice President for Student Life, made the trip and says it was eye opening for both the American students, but also Marietta's Chinese students. 
"The students not only do manual labor each day to support the Native Americans, but each night they learn about the Oglala Lakota history and culture," Pastoor says. "You can see on their faces as they gain an appreciation for their history, religion, traditions and their suffering over these pat two centuries. Our American and Chinese students have certainly not learned very much about this part of American history. This trip also generates a lot of cross-cultural learning to take place between the American and Chinese students that only helps strengthen their relationships back on campus."
Jiang says she was surprised by what she saw. 
"I wanted to learn more about the culture," she says. "I was thinking it would be a poor place in the middle of nowhere. Part of that is true, but the nature was so beautiful … it was so wide open."
Zhao says doing a community service is not part of the Chinese culture, but it is something she relishes.
"Some people may think that it is fake that I love to do service, but it started for me in high school," Zhao says. "I got a chance to go to a kindergarten for just one afternoon and I enjoyed the experience I had with the kids. Going to South Dakota was another chance to serve."