Students provide quite a show at Brunos' Choice Awards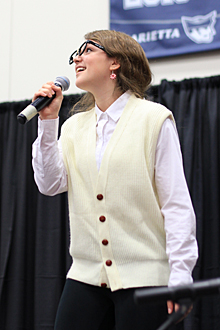 America's Got Talent … particularly at Marietta College.
Just before Finals Week mushroom-clouded over campus, hundreds of students put down their study guides, stepped away from their notes and headed to Fenton Court, where they enjoyed the talents of their peers during the inaugural Brunos' Choice Awards.
About 400 students, staff, faculty and family members attended the event, which was organized by CUB (College Union Board). There were 23 students performing in 18 acts during the show. Judging consisted of Dr. Debbie Lazorik, Dr. Dan Monek, Caitlin Jones, Jacob Tidwell, Brenna Goethel '13 and Vincent Hendershot '13.
Natalie Mayan '15 (Camden, Del.), who sang, "I Can Hear the Bells," from the Broadway musical Hairspray, took top honors.
"I was obviously thrilled when they said my name," she says. "Having so many close friends there supporting me really made the experience unforgettable. There were so many incredible acts in the show, and I was so honored to be a part of it. There are not very many opportunities to perform on stage past high school, so I was ecstatic that I had an opportunity to do so."
The second place winner was singer/guitarist Conner Busby '14 (Canton, Ohio), who performed original piece for the audience. Third place went to duo Kate Reid '16 (Westerville, Ohio) and Brittany Curry '15 (Newark, Ohio), who both played guitars while Reid sang.
"I will admit, I was really nervous before the start of the event, but then the students began arriving and the room was full," says Mallory Haynes '13 (Lore City, Ohio), President of CUB. "All of the participants had true talents and it was great to see other students support them all. I definitely think that the event was a huge success! Several students tweeted (#BCA2012) about the event, posting about it on Facebook, and approached me saying they would love to see the event happen again. I hope this is the start of a new annual event!"
The audience was asked to text their vote for Crowd Favorite as the judges scores were tallied. Of the roughly 400 people in the audience, there were 114 votes cast for Crowd Favorite. Sydney Maltese '14 (Massillon, Ohio) and Connor Walters '13 (Bay Village, Ohio) took that honor with their Marietta Capella Christmas Melody. Walters signed the two up for the competition after seeing a promotion for the event.
"I have a sense of humor similar to his, and very few qualms about using it, so I think he anticipated that we could make a riotously clever act if we collaborated," Maltese says. "And of course, it was clever — I couldn't have asked for a more perfect partner."