Students showcase late alumnus' artwork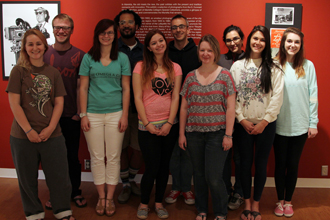 As a History major, Kristen Onkka '14 (Brecksville, Ohio) is familiar with the time and effort it takes to fully research a topic.
So when she teamed up with nine other students this spring for the Art of Collecting and Museum Practices course, she was excited about researching the work of photographer S. Durward Hoag '23.
What she learned, though, was there were elements she was not ready for.
"I wasn't expecting it to be so hard to hang the photos," Onkka said. "It took us three hours to hang one half of the exhibit."
The students, under the direction of Dr. Chaya Chandrasekhar, put together an impressive exhibit, Convergence: Photographs of Marietta That Was. It opened April 11 and will remain on display until May 11 in Gallery 310, the College's newest exhibition space.
The photos are part of the Legacy Library's Special Collections. Hoag is a member of Marietta College's Hall of Honor. He was considered a tourism pioneer and played a major role in Interstate-77 being routed near Marietta. He was also known as a local historian and photographer. He died in Marietta on Oct. 18, 1982.
Through the exhibition, the Marietta students are now sharing his timeless images with another generation. Selecting the photos was not easy, though as there are 12,000 to 15,000 prints and negatives to choose from, according to Linda Showalter, Special Collections Associate.
"We really had to think about the type of story we wanted to tell. Who was our audience?" said Chuck Atkins '17 (Marietta, Ohio). "Due to the restraints of space both teams started out with a lot more work than we expected."
The class was divided into two, five-person teams. One team was made up of Anna Bordonada '14 (Palestine, W.Va.), Nicole Morrone '15 (Mineral Ridge, Ohio), Dana VanDervort '15 (Alexandria, Ohio), Camille Walters '17 (Williamstown, W.Va.) and Atkins. The other group was Nicole Martin '14 (Granville, Ohio), Chad Rummler '14 (Seaville, N.J.), Rachel Smith '14 (McConnelsville, Ohio), Kaleb Thompson '14 (East Cleveland, Ohio) and Onkka.
"Above all, the Museum Practices course teaches students about teamwork and responsibility. Curating an exhibition requires collaboration — from inception to completion," Chandrasekhar said. "This group of student curators worked well together, with each person contributing her or his strengths to the project, and showed real leadership. The proof is in the excellent exhibit. I could not be more proud of their efforts." 
Bordonada admitted that she prefers working alone, but this group experience was fulfilling.
"I liked the way we played and I learned a lot from everyone," she said.
Many in the class said they were excited with the final outcome, but surprised how much time went into and how much they had to compromise along the way.
"I was about the story and it was interesting for me as a real-world application. We had to focus on the audience," Martin said. "I wouldn't change anything about it now. When you go into a museum you don't walk a certain way every time, so we really had to think how each photo was place so we could tell a story no matter how someone walks through the gallery."
Rummler, a Psychology major, added, "I'm very proud of what we accomplished. I had no clue what I was doing when I decided to take this class, but it blew my mind what goes into preparing for an exhibition."