Students showcase research efforts during campus-wide event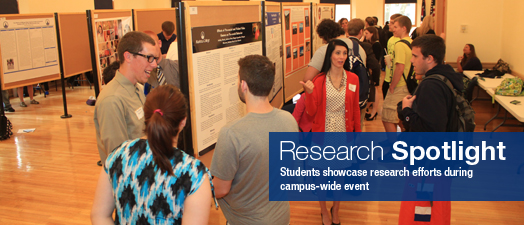 Three science majors stood before a poster depicting a project they devoted many hours of their spring semester researching together.
Megan Hoag '15 (Caledonia, N.Y.), an environmental science major with minors in French and management, Natalie Turner '15 (Marysville, Ohio) a biology major, and Sattam AlMutairi '13 (Saudi Arabia) a geology major, were ready discuss what they learned about their project during the third annual All Scholars Day Wednesday. Nearly 80 different presentations ranging from cell death research to vocal performances were featured in various areas of campus.
Though their chosen fields suggest that their project would likely be science-based, the trio's topic had nothing to do with lab work or the scientific method.
"We are taking a French literature course together and our professor wanted us to participate in All Scholars Day," Hoag says. "We could present on one of three books we read for class. We chose Houseboy (by Ferdinand Oyono) but we didn't just want to focus only on the book … During our class, we learned about the Negritude Movement, and we wanted to learn more about that and focus mostly on that literary movement."
The three students read the book and connected the main character's life with the history of how portions of Africa that were colonized began revolting and returning to their cultural roots.
"We were able to collaborate really well with each other," Turner says. "Sometimes, when you're working on a group project, that's not always the case."
AlMutairi estimated the group spent at least 13 hours working on the project.
"I've been involved with a lot of research at Marietta," he says. "I'm presenting my capstone project for my major next (week) in Brown." That project focused on the fossil index of West, Texas, and involved a year's worth of research.
The trio presented during the first poster session in Andrews Hall. Many members of campus stopped at various exhibits to hear students discuss what they studied.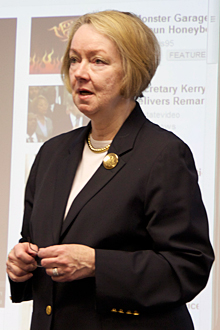 For the first time since All Scholars Day was organized three years ago, regular classes were canceled in order for students, faculty and staff to participate and celebrate the accomplishments of student research. This year, diplomat Kathleen Reddy-Smith '71 served as the keynote speaker for the Spring Honors Convocation, which was conducted at the close of daylong event. Reddy-Smith gave presentations to different groups prior to her speech. Retired from the U.S. Foreign Service, she is currently the Diplomat-in-Residence at Bridgewater State University in Massachusetts.
Abby Klicker '13 (Pittsburgh, Pa.) manned a poster that showcased various art pieces by 11 fellow art students presenting in the Hermann Fine Arts Center.
The political science and studio art double-major directed people to the Hermann exhibits.
"I have five oil paintings in the gallery," she says. "I really like that my capstone project is something that was guided by my professor but was of my own design. My pieces reflect my creativity — and that is something I'm really proud of."
Ryan Turnewitsch '15 (St. Clairsville, Ohio) collaborated on a project with George Grady '13 (Willowick, Ohio) and Dr. Suzanne George to study the effects of resveratrol on "UV-induced apoptosis of M624 melanoma cells." Resveratrol is an antioxidant found in foods such as blueberries and red grapes. His study examined how it affected the manner in which a cell died (naturally or unnaturally) after being exposed to resveratrol and UV light.
"George grew the cells, which is like taking care of a pet," Dr. George says. "…and Ryan conducted his experiments on those cells."
Dr. George hopes to establish more group combined research projects similar to this one, where students collaborate their studies with fellow students in order to conduct multiphase projects.
Turnewitsch happily discussed his project and findings with members of campus who may or may not have had a science background.
"I really enjoyed this honors research project," Turnewitsch says. "I spent more time on this than I did on any of my other classes. It was a great experience for me and I'm grateful to be able to present it to campus." 
Student Coverage of All Scholars Day
More than just a day off from class — By Taimur Ahmed
All Scholars Day puts all eyes on students at Marietta College — By Laura Keating
Third annual All Scholars Day — By Gerrell Nowling
Goethel thankful for MTV opportunity — By Josh Schott
Hundreds of Pioneers present at All Scholars Day — By Chelsey Scott