Support of donors helps College surpass $1.7M Marietta Fund goal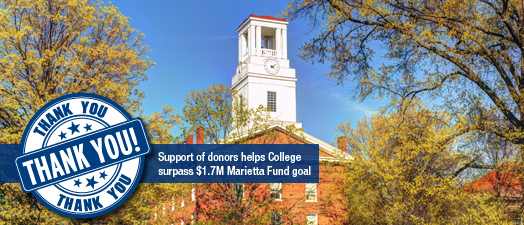 President Joseph Bruno has talked extensively about how much he has enjoyed his first year at Marietta College — attending theatre performances, representing the institution around the nation and having students over to his home for dinner to name just a few.
A couple of weeks into his second year and Bruno has one more thing to celebrate from his first year — the College surpassing its Marietta Fund goal of $1.7 million.
"Diane and I have thoroughly enjoyed our first year at Marietta and getting to know so many people who hold this institution in such high regard," Bruno says. "Without their commitment to Marietta College we would never be able to reach this goal, much less surpass it. So to everyone who helped make this happen, Diane and I want to offer our sincere appreciation. This generosity to The Marietta Fund adds to the strength of Marietta College and to the quality of the education we are offering."
The ability to announce reaching the goal was delayed by the Fourth of July holiday holding up some of the final checks in the mail. But after all of the checks were received and credit card transactions computed, the Advancement staff was delighted announcing it had surpassed the $1.7 million goal.
The final number was $1,709,932.57 — a record high for Marietta College. The previous record was $1,665,220 in 2010-11.
In addition to the actual funds raised, overall participation is important to the College's ability to obtain grants from corporations and foundations and it also impacts independent rankings from groups like U.S. News & World Report.
"I didn't arrive on campus until June 10, but I was impressed with the teamwork and the great ideas generated from the entire Advancement group, which helped us surpass the goal in those final weeks," says Dr. Joseph Sandman, Vice President for Advancement. "It is a wonderful gesture of our alumni and friends to help make sure the goal was met in President Bruno's first year at Marietta. Now our goal is to make sure we hit the goal every year he and Diane are with us."
Marietta Fund resources are directed to areas of greatest need at the College and this flexibility maximizes their impact upon those areas that require particular attention. The $1.7 million was a significant part of the College's budgeted expenditures for the 2012-13 academic year.
"While we are overjoyed in reaching the goal, the fundraisers are already looking at strategies to exceed the goal again in 2013-14," says Angela Anderson, Director of Advancement.
Here is a look at the College's recent history with The Marietta Fund:
-- 2005-06: $1,075,196
-- 2006-07: $1,351,675
-- 2007-08: $1,526,539
-- 2008-09: $1,194,712
-- 2009-10: $1,557,055
-- 2010-11: $1,665,220
-- 2011-12: $1,615,540
-- 2012-13: $1,709,932
So over the past eight years, The Marietta Fund has generated more than $11 million toward the operating budget for the College.
"It is an honor to work with so many alumni and friends of the College who care so deeply about this institution," Anderson says. "We hope they will take a moment today to celebrate this accomplishment with us."