Survivor of the Rwandan genocide to give Founders Day address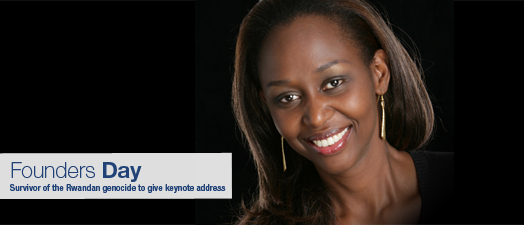 As a National University of Rwanda student in 1994, Immaculee Ilibagiza spent 91 days starving and scared in a crowded bathroom taking refuge from the Rwandan genocide. From there, it's hard to imagine that her survival story would lead her to become one of the world's leading speakers on faith and forgiveness.
Two decades after surviving the genocide in the East African country of Rwanda, Ilibagaza will journey to Marietta College to be the 2014 Founders Day keynote speaker. Founders Day will be observed on Feb. 13, though the actual anniversary date of the College's charter is Feb. 14.
"Ms. Ilibagiza is a Tutsi survivor of the 1994 Rwandan genocide," says Dr. Mark Miller, Associate Provost for Academic Affairs at Marietta College. "She and seven other Tutsi women hid in the bathroom of a Hutu neighbor for three months. For the past two decades she has been working on peace-making initiatives."
Ilibagiza has a unique perspective to bring to Marietta, as her experiences have been nothing less than inspiring. While her country was destroyed and her family was killed during her time in refuge, Ilibagiza overcame her fear and resentment through intense prayer, as inspired by her religious father.
When she was finally able to resume a normal lifestyle, Ilibagiza began work for the United Nations in 1998. In 2006, she wrote her first book, "Left to Tell; Discovering God Amidst the Rwandan Holocaust," which became a New York Times best seller.
According to the Washington Speakers Bureau, she has honorary doctoral degrees from the University of Notre Dame, Saint John's University and Walsh University. Additionally, she has received numerous humanitarian awards including the Mahatma Gandhi International Award for Reconciliation and Peace in 2007 and the American Legacy's Women of Strength & Courage Award. A finalist for Belifnet.com's "Most Inspiring People of the Year 2006," Ilibagiza has been featured in several documentaries and her life story will be turned into a major motion picture in the near future.
Miller says Ilibagiza is the perfect speaker to coincide with Marietta College's theme of global issues. He became interested in her story after seeing it on a "60 Minutes" documentary.
"I was amazed by it," he says.
Dr. Miller hopes the students who listen to Ilibagiza are able to realize the massacres that occur halfway around the world do matter, even to those of us in the Mid-Ohio Valley.
"While that happened in the '90s, these things continue to happen," Miller says. "There's never an easy answer… but I hope our students can realize that being socially aware is more than just watching the news, but trying to find a way to actually make a difference."