Three-day Family Weekend begins Friday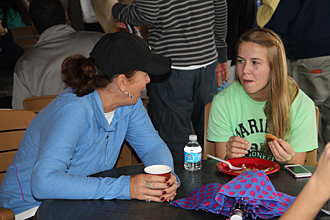 Each year a special weekend, packed with unique activities and opportunities, is set aside to encourage fellowship with family and friends of current Marietta College students.
For Ross Lidman '18 (Liberty Township, Ohio), the excitement for the upcoming Family Weekend is beginning to intensify.
Lidman plans to take the opportunity to show his family the sights and spectacles of the campus and surrounding city of Marietta during the three-day event, which begins Friday, Sept. 18.
"I'm really excited for my family and my little sister to come down so they can check out the campus and the soccer games, the sports environment here, and the small-town nature of Marietta," Lidman said. 
The weekend will allow Lidman's family the chance to see him in action on the soccer field when the men's soccer team takes on Pitt-Greensburg at 4 p.m. on Friday and La Roche at 2 p.m. on Sunday.
While it will be exciting for Lidman and his family to see him play, Lidman, like many other first-year students, is looking forward to giving his family insight into his day-to-day life at Marietta.
"I'm excited for them to see how my room has changed since they last saw it when I moved in," he said. "I want to walk them through my daily schedule, where I go and what I do."
While other sporting events will take place throughout the weekend, events scheduled for this year's Family Weekend span many interests.
"I know my parents are looking forward to it too. They don't know what to expect from the town and don't yet know what all it has to offer," Lidman said.
The weekend unofficially kicks off on Thursday, Sept. 17, at 7 p.m. in the Alma McDonough Auditorium when Peter Yarrow (of Peter, Paul and Mary fame) will perform a benefit concert for Orphans International Worldwide. Yarrow will perform some of his hit songs such as: Puff the Magic Dragon, If I Had a Hammer, Leaving on a Jet Plane, Where Have all the Flowers Gone and many more.
Ticket prices are: $10 for students; $25 for adults and; $50 for a reception and book signing.
Starting on Friday, Sept. 18, from noon to 7 p.m., registration for many of the weekend's events will be held at the information desk on the first floor of Andrews Hall. Registration on Saturday, Sept. 19, will begin at 9 a.m. and continue until noon. Free tickets for the trolley rides and sternwheeler cruise that will take place throughout the weekend will be available at registration.
The first event on the schedule will provide a unique and unforgettable experience for all who take part. From 5 to 7 p.m. on Friday, the Pioneer Activities Council will host the Valley Exotic Zoo in the Kremer Amphitheatre. The event will offer a complete hands-on experience with a variety of exotic animals from around the world.
To wind down in the evening, students and guests can take part in a narrated trolley ride tour of Marietta that provides an overview of the historic architecture and sites of Ohio's oldest city. The trolleys will depart at 7 and 8 p.m. Rides will also be held at 1, 2 and 3 p.m. on Saturday.
Early on Saturday, students and guests can take part on a one-hour journey on the Ohio River on an authentic sternwheeler boat, the Valley Gem. The boat will depart at 9 a.m. from where it is docked on the Muskingum River under the Washington Street Bridge. Families are encouraged to take part in the scenic cruise where they can meet Dr. Joseph Bruno, the College President, Dr. Janet Bland, Provost, Dr. Richard Danford, Vice President for Student Life, and many other members of the faculty and staff.
For those who decide to stay on dry land in the morning, a softball alumni game that starts at 10 a.m. will allow spectators to see some alumnae take on the 2016 team.
Then at 11:45 a.m., there will be a one-hour mock leadership class for those wanting to learn more about the McDonough Leadership Program, in McDonough 205 and 208.
From noon to 2:30 p.m., there will be a Greek Life picnic held on Fourth Street Field. All current fraternity and sorority members, potential new members and their families are encouraged to enjoy a catered picnic and yard games. After the picnic, all of Marietta's fraternities and sororities will have open houses until 4 p.m.
Starting at 4 p.m., interested individuals can participate in an exploration of our galaxy's potential for extraterrestrial life when "Space Aliens: Looking for Life in the Universe" is shown in the Anderson Hancock Planetarium. The program will be accompanied by a live star talk about the September evening sky.
The Pioneer tailgate before the evening's football game will get underway starting at 4:45 p.m. outside of Don Drumm Stadium.
With kickoff at 6 p.m., everyone is encouraged to attend the game and watch Marietta take on Otterbein. Ticket prices are $5 for adults and $3 for students and senior citizens. As with all Marietta sporting events, MC students get in for free.
The weekend comes to a close on Sunday, with brunch available in Gilman Student Center from 11 a.m. to 1 p.m.