Tropical experience helps students relate to conservational leadership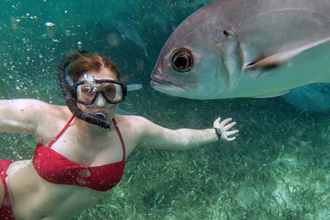 From seeing howler monkeys and stingrays up close and personal, to experiencing the diverse and unique ecosystems of a dry forest, cloud forest and rainforest, the three weeks that Nell '18 (Perry, Ohio) and Hayley Cormack '18 (Perry, Ohio) spent in Central America will be a time they will never forget.
The sisters were a part of a group of students from Marietta College and Christopher Newport University that visited Costa Rica and Belize to study Conservational Leadership in May.
In addition to the Cormack sisters, Kay Shanda '17 (Columbus, Ohio), Emma Strick '17 (Berea, Ohio), Megan Bache '17 (Westland, Michigan), Hannah Steketee '17 (Morgantown, West Virginia) and Hannah Davis '16 (Wheelersburg, Ohio) also participated in the Education Abroad experience.
The Marietta students often worked in pairs with a student from CNU, and many saw the collaborative nature of the trip as a positive aspect.
"One of the strengths of this trip was that we had students from two leadership programs that had never met before and they were able to take the course and share different perspectives," said David Brown, Professor of Biology.
All of the Marietta students who went on the trip receive class credit for Leadership 350 – Conservation and Leadership Service Project. While the class work that was interspersed throughout the trip was not Nell's favorite part, she said it was never too much that it got in the way of enjoying the trip.
All of the students completed quizzes, studied and participated in discussions throughout the trip. Perhaps the most important part of their studies was collaborating with CNU students to conduct surveys of locals in Monteverde and La Fortuan, Costa Rica, about their attitudes toward the environment. The survey is part of a multi-year study.
"They did a great job collecting survey data on the trip and I am looking forward to the research papers that they will be turning in based on their research topic and data from the survey that was conducted," Brown said.
Nell faced her most challenging obstacle head-on while she conducted the surveys.
"It was very strange to not really be able to understand what people were saying to me," Nell said. "This also made conducting surveys more difficult due to the fact that I had very little vocabulary to pull from to ask questions with and if they asked me a question I had trouble understanding them."
Reflecting, Nell appreciated having the trip be a part of a class because it allowed for her and the others to meet some very interesting people and learn about fascinating ways organizations in other countries work to save the environment.
Besides seeing a wide range of wildlife, from "extremely loud and slightly terrifying" howler monkeys, red-eyed tree frogs and tarantulas, to stingrays, nurse sharks and sea turtles, the Cormacks were most impressed with the diverse landscapes and distinct difference in culture compared to that of the United States. 
The group was able to explore several different environments in both Costa Rica, including a dry forest, cloud forest and rainforest, and Belize, mostly beach and marine — a stark difference from the typical Ohio weather.
"Each one was unique," Hayley said. "I was especially surprised by the cloud forest in Monte Verde, Costa Rica, which had a colder (60s-low 70s), constantly misty climate. Monte Verde also was a unique town because of its mix of dairy farms, eco-tourism, population of Quakers, who actually came from Wilmington, Ohio, and were attracted to Costa Rica because it had disbanded its military, and preserved forest."
While in Monte Verde, the group learned about and explored the main preserved area of the region, the Children's Eternal Rainforest. They heard form one of the original members of the Quaker community, who spoke about the forest and his efforts to help preserve it.
Another opportunity the group experienced was zip-lining through the cloud forest.
"(It) was an amazing and exhilarating, yet humbling experience, flying over a cloudy, practically untouched forest," Hayley said. "It felt like I was literally in a cloud."
A particular aspect of the rainforest landscape that both Nell and Hayley were impressed with was in fact the rain.
When they were staying at a field station in El Zota, in the middle of a rainforest, it rained all day. Though it was a common occurrence for that region, the scene impressed Hayley.
"One of the days we were there it rained all day, which was an experience all by itself because I had never experienced that steady and heavy of a rainfall without thunder or lightning," Hayley said.
It was in El Zota where the group completed their service project of helping fix up the local one-room schoolhouse, which served five students and one teacher.
While in Belize, the group spent the majority of their time near the ocean, including the "absolutely perfect" beaches with their "white sand and endless blue water." While snorkeling, the students were able to see and interact with a large variety of marine life including sea turtles, dolphins, eels, nurse sharks and stingrays.
Besides going snorkeling, the group learned about marine protected areas and how such areas not only help conserve species but also assist local residents by allowing fish populations to regenerate. In Punto Gorda, they learned about TIDE (Toledo Institute for Development and the Environment) and its efforts with estuary and marine conservation, research projects, education about the environment in the community and community development.
Besides learning about environmental conservation efforts being made by local non-governmental organizations (NGOs), the trip-goers visited the "breathtaking" Mayan Ruins. The group also visited a local chocolate farm where they helped take the cocoa plants through the whole process until the finished product of delicious chocolate was achieved.
Throughout the entire trip, differences in culture between Costa Rica and Belize and the United States were seen and experienced by all of the participants.  
"It is very interesting to see how people around the world live and how it differs from our lifestyle in the U.S.," Nell said. "Just based on my own experiences it seems like American culture is much more focused on speed, efficiency, and profit whereas the cultures in Belize and Costa Rica are more focused on relationships. At some of the markets you could actually haggle for prices and in fact, this is expected and even encouraged. The sale is more of a social interaction than just a transaction."
For a trip centered on conservation leadership, it was a powerful experience seeing firsthand how much the style of living differed from that of the U.S.
"It seemed like many people in both countries live a lot simpler than we do," Nell said. "Some people lived in houses with thatched roofs and washed their clothes in the river. I think this shows that there are other ways to live that have less of an impact on the environment than the way most Americans live. I noticed many more people riding bikes, and this is definitely something more Americans could do instead of driving everywhere to help reduce pollution in the environment."