Two Marietta seniors named All-American at Pi Kappa Delta Nationals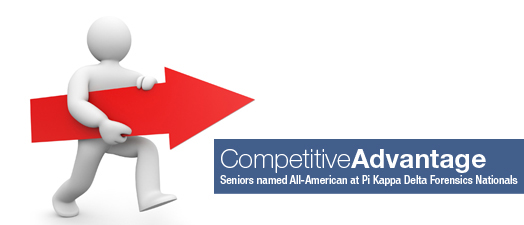 Andrew Kasick '13 (Marietta, Ohio) and Ben Reese '13 (Marietta, Ohio) have set the bar fairly high for Marietta College's successful forensics program.
Both were named to the eight-person All-American team at the 2013 Pi Kappa Delta Nationals in St. Louis, Mo. The All-American Award recognizes the top students nationally in the areas of Competition, Service and Community Service, and Marietta was the only program to have two students receive the honor this year. The event was held from March 13-16.
"I am also deeply honored to be recognized as one of PKD's All-Americans for 2013 and proud that, even though our school is one of the smallest in the organization, we were the only chapter to have more than one member selected for this honor," Reese says.
The honor should come as little surprise, considering the impact and dedication the two have displayed during their careers. Reese will compete one more time before his forensics days are done at Marietta. He qualified for the Interstate Oratorical Association Competition that will be held in Shreveport, La., in April.
"I couldn't be prouder of our students. Not only did they sacrifice their spring breaks to travel to St. Louis, Mo., to compete in a national tournament, they represented Marietta College very well," says Dr. Tomeka Robinson, Director of Forensics. "But it's not the competition that I am the most proud of, the Marietta College chapter is one of the few chapters that actively engage in service learning as a vital component of our forensic activities. We are one of the leaders in this area and it is my desire as their director to continue to push them to be excellent in scholarship, service and competition."
Marietta won 23 awards as eight students competed against 87 other schools from around the nation. At the PKD Tournament, students can receive Excellent (top 20 percent of all competitors) or Superior Ratings (top 10 percent of all competitors).
Overall as a team, the Pioneers received an excellent rating.
Kasick received excellent ratings in extemporaneous speaking and open parliamentary debate, and was given a Top 6 Paper rating in the student scholarship portion. Student scholarship was an online event where students had to submit independent research papers and a video presentation.
"I am humbled that, in the three years since I first competed in Forensics, I have accomplished so much that PDK deemed me worthy of receiving this honor, and there are many individuals in the Marietta College community that I feel have contributed to this success," Kasick says. "Furthermore, I am proud that Ben Reese, who I have known since high school, also became a PKD All-American. For years I have seen how much he has accomplished, and I once again felt humbled to stand along side him and the other six scholars who received this honor. Finally, I am proud that of the eight seniors who were given this award, two of them came from Marietta College."
Reese earned a superior rating in impromptu speaking and persuasive speaking, while also earning an excellent rating in student scholarship and open parliamentary debate. Kasick and Reese were both quarterfinalists in open parliamentary debate.
"Traveling to Pi Kappa Delta's National Tournament and Convention for the honorary's 100th anniversary celebration was truly one of the most rewarding experiences that I have had as a student at Marietta College," Reese says. "To see the team accomplish so much and meet so many people with similar interests was an opportunity that, as a senior, I will never have again and would not have traded for anything — even though it did require getting up at 5 a.m. every day and there is no beach in St. Louis."
Eric Miranda '15 (Olmsted Falls, Ohio) received a superior rating in broadcast journalism and excellent ratings in extemporaneous speaking and student scholarship. He also teamed with Ryan Childers '16 (Vincent, Ohio) to reach the semifinals and earn an excellent rating in junior parliamentary debate.
Childers also had an excellent rating in impromptu speaking, while CJ Maffris '13 (Worcester, Mass.) earned an excellent rating in discussion.
"I don't think the team could have asked for a better experience at a Nationals tournament," Kasick says. "Aside from bringing back awards, we got to learn and compete against some of the best speech and debate programs across the country and to share the excitement of one more tournament together."
While the students were finished winning awards, Robinson also earned a Presidential Service Award for her contributions to Pi Kappa Delta over the last two years as the Charters & Standards/Public Relations Coordinator. This position is on the national council of the organization, and there are three forensic educators elected every two years to serve on the 10-person board.
"More specifically, this award was for bringing in 32 new undergraduate and alumni Pi Kappa Delta chapters both nationally and internationally and for working to develop digital software and mobile sites for the organization," says Robinson, who will continue to serve in this capacity for another two years.
Also competing for Marietta at nationals were Andrew Looker '16 (Canton, Ohio), Chelsea Robinson '15 (Sulphur, La.) and Christian Sanders '14 (Willoughby, Ohio).
Dr. Jamie Moshin, Assistant Director of Forensics, and Sabrina Wittekind '12, graduate assistant, also assist in coaching the team.