Two students named state officers for college music association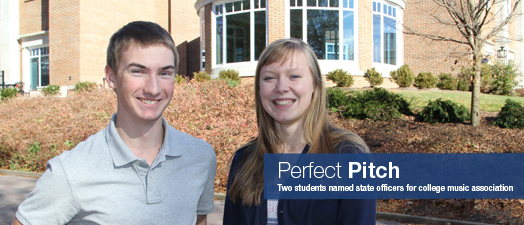 Two Marietta College Music Education majors, Emma Burger '14 (Mansfield, Ohio) and Patrick Specht '16 (Glenview, Ill.), have recently been selected as state officers for the Ohio Collegiate Music Educators Association.
Burger, last year's president elect, is now state president, while Specht will be serving as state treasurer. While two may seem like a small number, OCMEA only has five officers total from the entire state. This means Marietta College students currently make up 40 percent of its executive board.
"For a small school, that's pretty amazing," says Marshall Kimball, Director of Bands and Instrumental Activities.
Kimball is currently in his fourth year as OCMEA state adviser. He presides over the approximately 30 chapters in Ohio, which include larger schools like the University of Cincinnati, Ohio University and Ohio State University. Because the range of schools involved in OCMEA is so wide, becoming an officer is a competitive process. However, Burger and Specht have accomplished this through their outstanding interpersonal abilities, Kimball says.
"They're also very bright… very articulate, and they display really wonderful leadership and organizational skills," he says. "As the state adviser, I really need the officers to have (these qualities) because I depend on them to get things done."
Specht says his and Burger's election as state officers serves as a "testament" to the dedication of Marietta College's Music Education majors.
"While we are a smaller institution, the students here are as engaged — if not more so — on a state level than students at some of the larger state schools," he says.
Burger, as state president, is the leader of hundreds of music education students across Ohio. She says this is "challenging at times," but the position has given her valuable opportunities for leadership development. Burger has met and spoken with the President of the Ohio Music Educators Association, and she plays a large role in the behind-the-scenes leadership of OCMEA.
"My biggest goal as state president is to strengthen communication between all of the OCMEA chapters," Burger says. "I'd like to implement a reporting system so that I know who's in charge and that they're being active."
The new officers will also be in involved in helping program the state OCMEA conference in February. This conference is attended by "around 4,000" people, and is the "third largest music conference in the U.S.," Kimball says. The officers will be coordinating the portion that caters specifically to the circa 900 collegiate music education majors in Ohio.
Kimball says that although it is small, Marietta College has one of the more active OCMEA chapters in the state.
"(The officers) know there are things I expect them to do to set an example for other chapters in the state," he says.
Specht, like Burger, has gladly taken on this active leadership role.
"I enjoy being in this position because it gives me the chance to network with educators from a different background than I have," Specht says. "It is a great way to also maintain contact with other colleagues I have met through performing ensembles and other conferences."